Overseas Filipino Workers are considered as modern hero. They sacrifice being apart from their loved ones to sustain their financial needs. Working abroad is never that easy. You will need to adjust to the environment as well as your employer and co-workers who came from different countries or locals. Adjustments combined with sadness of being away from their loved ones is the hardest torture every OFW has to endure.
But despite all of these things, there are people who underestimate the sacrifices a certain OFW does. Just like this woman.
According to a certain Baiyln Utto, OFW's are illiterate and flirty. She accused OFWs as ugly and to sum it all, worthless being!
She compared herself to OFWs and claimed that she is beautiful and working in the office, which according to her justifies her beauty.
This is her actual post:
"Ang ganda ko talaga kaya naman hindi ako puwede sa trabahong katulong lang katulad ng mga walang pinagaralan na mga OFW's bukod sa mga pangit na mga mabaho pa ang trabaho. Ako maganda na sa office pa nag wo-work much money ako hindi tulad ng mga OFW mga bobo! Mga tanga! Pa hahaha tapos nag bebengta pa sila ng sarili nila sa mga lalaki in short mga malalandi kau mga OFW's."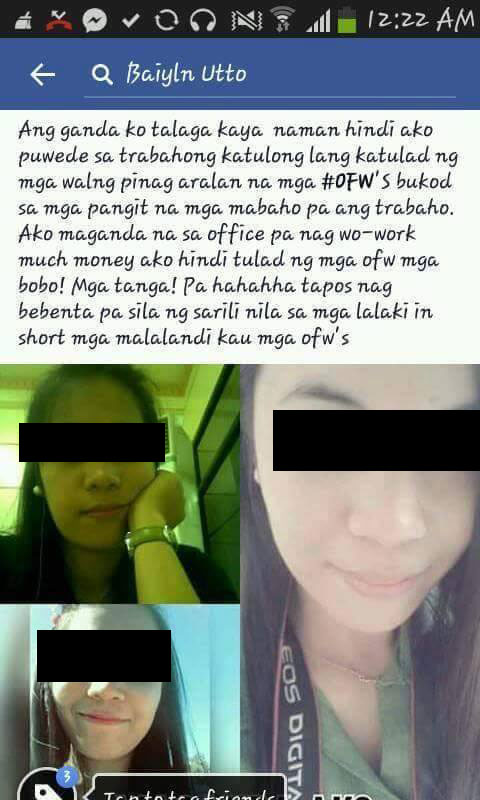 Meanwhile, another post of a certain Kendrew Vincent Pulido Dimaculangan claims that the image used in the post is not her real picture. This is her way to hide her real identity. This should serve as a warning not to accept friend requests in Facebook from unknown people.