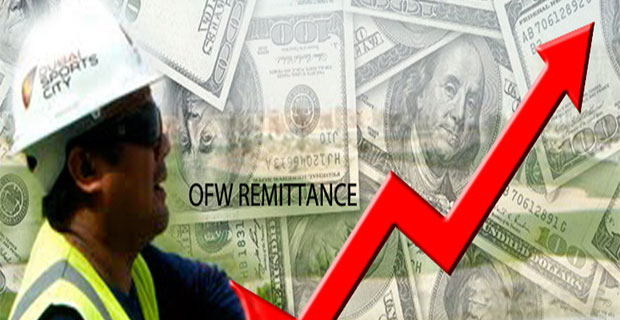 In 2017, money remittances for Overseas Filipino Workers is expected to rise.
After an increase in cash remittances during the start of 2017 by 8.6 percent, Banko Sentral ng Pilipinas (BSP) affirms.
2.169 billion US dollars was the recorded amount of remittances last January 2017 which is higher than the 1.9 billion US dollar last year of the same month, this was based on BSP's preliminary data.
Big contributors where OFW's working in Qatar, one of the biggest oil-producing countries in the world.
According to Bank Sentral ng Pilipinas Deputy Governnor Diwa Guinigondo "We should also expect steady or stable demand for our overseas Filipino workers particularly in the Middle East, the oil-producing, oil-exporting countries. Especially the skills diversification of our overseas workers, and new markets that have been developed in the last few years."
Other sources of dollar remittances came from the rise of Business Process Outsourcing (BPO) companies in the Philippines, as per BSP.
"The expansion is the question. The uncertainty is whether they will expand or not, but I don't think they will pull out and they will remain," Guinigundo added.
The Philippine governments' campaign against criminality and illegal drugs have contributed to the increase of foreign investors, because for the peace and order situation is a huge issue for them, the BSP believes.