In the Philippines, employers are very particular in hiring their employees considering their looks, their achievements and their ages. As such, fresh or newly graduates were much preferred than those who had been working for quite some time without considering their expertise and knowledge.
But in Hong Kong, it's nice to know that people of any age were given equal opportunities to occupy job positions for as long as they can still work efficiently.
Recently, a Facebook user named Amelou Saqueza had shared on social media her photo together with an old man who was working as a crew at a Fast Food Store in Hong Kong.  She was all praises to the man as despite old age he was still working to support his family and loved-ones.
The Jollibee crew was identified to be 64-year-old "Tatay Tony"  as he is fondly called.  Tatay Tony had been working in Hong Kong for 28 years and is currently assigned as a crew in Jollibee Mongkok Branch.
Amelou expressed how proud she is for knowing Tatay Tony who until now is working for his family and loved-ones even if he is already old.  Amelou added that she salutes and respects him and for all his hardwork and sacrifices while working abroad and away from his family.
Meanwhile, netizens had also expressed their admiration towards Tatay Tony in the comments section of Amelou's post. Some also shared that there were a lot of old people in Hong Kong who were still given the opportunity to earn a living.  In fact, one netizen shared that she happened to know one instance when the old man was still working at the age of 74.
Apparently, in ASIA, most of the countries were also practicing the same: no age limit for different positions for as long as they are still capable of performing their jobs efficiently.  Sad though, in the Philippines, older people were rejected to fill-in job positions because employers believe that they can no longer efficiently perform their duties at work as they may be weak, forgetful or doesn't look pleasing anymore.
Many netizens then hope for discrimination be minimized if not totally 'removed' in the Philippines so people from all ages will be given equal opportunities to work, to earn and to live abundantly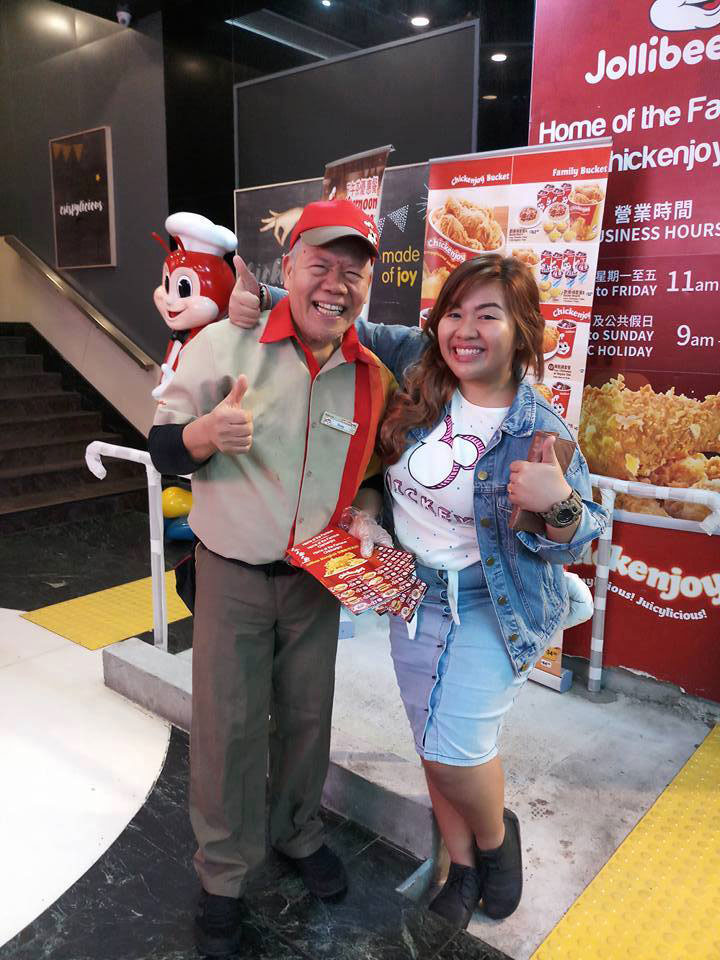 The Cation Post :
Currently i'm in Hongkong, then i met Tatay Tony who is 64 years old but still working here at Jollibee Mongkok and he's been working in Hongkong for about 28 years already. I am really really so PROUD of you Tatay Tony. I SALUTE and RESPECT you. There's no descrimination here in Hongkong in terms of age. Some are still working in a fast food chain like 74 years old said Tatay Tony.

He is an Ilonggo, May kababayan.

God Bless you Tatay Tony and to all OFW's who are working in abroad for their family and loved ones. So proud of you!!!!