A certain Paul Alvin Magsalin, posted on his social media account a shout out for his fellow Filipinos staying in Japan.
Paul said that he knows that everyone is aware of the fact that there are news circulating in Japan involving Filipinas who were asking for donations for typhoon victims or for a Children's Foundation. He added that he normally sees them in Motoyawata, roaming around and asks for donation from people they get to meet on streets. At first, he did not mind at all  but later on he realized  that it would be unfair for Filipinos who are working hard and living decently for their families if he will tolerate fellow Filipinos who might be  engaged in illegal activities, thus, destroying the image of the entire Filipino community.
Scroll Down for Video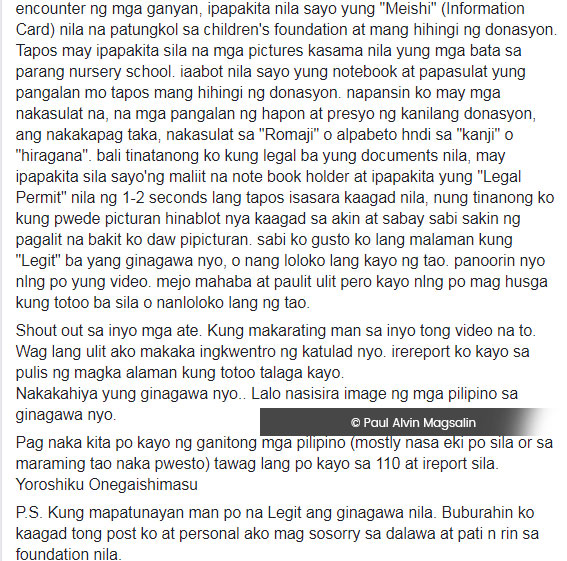 Paul video 1
Paul narrated his own experience with two Filipinas who asked him for a donation.  According to him, he was with his friend that time in a train station in Motoyawata when he noticed a girl asking for donations. His friend said that he had encountered the girl for several times.  The girl would normally show her "Meishi" (Information  Card)  about a children's foundation. She will also show pictures of nursery children then will hand a notebook where you can have your name written then afterwards will be asked for donation.
He added that there were names written on the notebook but what left him thinking is the fact that the names were written in "Romaji" and not in "kanji" or "hiragana".  When he  asked them to present legal documents, they presented a small notebook holder which according to them is the legal permit and  will show it in a fast, short glance. Paul asked if he can take a picture of it, but one  girl immediately pulls it away and gets irritated.
Paul Video 2 
This kept Paul wondering if what they are doing is legal or not.
He also attached a video for netizens to see and have their own judgment.
He warns the two Filipinas that the next time he would see them, he will report them to authorities for  what they are doing is a big mess to the image of the Filipinos as a whole.
However, Paul assured them that if they should be able to establish the fact that what they are doing is legal, he will remove his post and will personally ask apology from the girls and their foundation.
What can you say about this? Please watch the video and let your thoughts known.