Too much loneliness could lead to depression. Most OFWs struggling to work abroad are suffering from the loneliness and some of them even lose control of themselves. Just like this OFW which can be seen in the images, sitting in the window of a high-rise building.
Facebook user, Anne Marie Deanon, was keen enough to take pictures of fellow Kabayan in Kuwait who can be seen sitting in a rather dangerous area of an apartment – the edge window.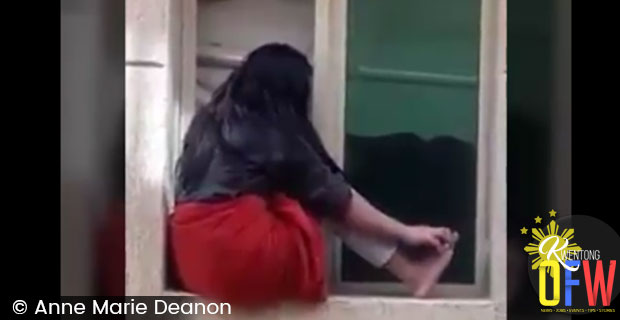 According to Deanon, she has no other information, except from the woman's name which is Johann. She is really worried on the woman and wanted to help her as much as possible. However, Deanon do not know where to report the incident and decided to post the images online, hoping that it will reach the designated government agency for immediate help.
Deanon is living in front of the apartment where the woman is currently situated. The address is Block 5, St 13, Surra, Kuwait.
Johann has no mobile number or any relatives to reach on. But still according to Deanon, the woman already wants to go back to the Philippines despite being in Kuwait only for 6 months.
Netizens were quick to respond and tagged some of the Facebook page of government agencies.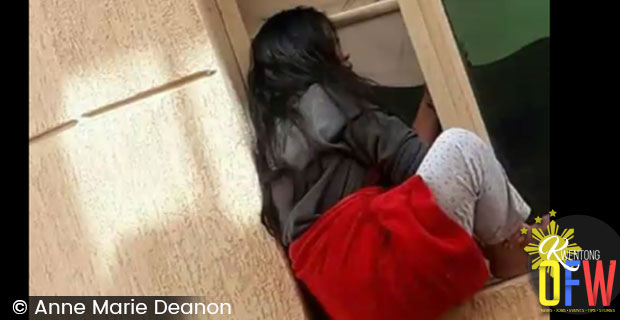 #bentulfo pls.help her to rescue..#bitag Presidential Communications (Government of the Philippines) Department of ForeiDepartment of Foreign Affairs Republic of the Philippines, says Adalia Rogelio Baluyot.
Some netizens felt totally pity on the woman's current situation.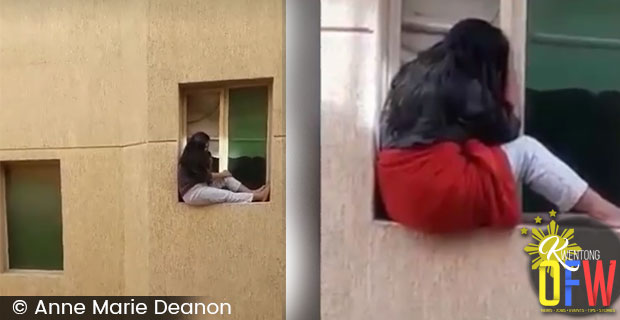 Kawawa nmn mga kabayan ntin nsisiraan ng bait. Ganyan khirap mag abroad. Kelangan tibay ng loob, says Arvin Andal.

kawwa nman bka mahulog sya dun. ano b ng yyari..says Joselyn Boncay.

na homesick tan di kinaya TAS sabayan pa ng mga among bruha at problima sa pinas di kakayanin kailangan pag lumabas ng Bansa natin tapang talaga tas pray sa awa ng DIOS 17 years na akong ng aabroad palipat lipat nalang ng Bansa kayanin pinasok natin to eh kabayan tawagan mo loob mo nawala,na siya sa katinuan kaluoy pud oi, says Betonio Cuyos Gina.
The Facebook post currently has 7,910 shares, 1, 242 comments and 1,775 shares.
Anne Post is deleted below video is from RMN Iloilp
WATCH: VIDEO SANG PROBLEMADO NGA OFW SA KUWAIT, NAG VIRAL!Report ni: Jennifer Palomo DebajaNaga sakut nga kakulba kg kaluoy ang ginbatyag ni Anne Marie Deanon tumandok sang Silay City, Negros Occidental takna alas onse kahapon sang aga matapos ila nakita ang isa ka pinay nga naga pungko on kag nagapatibi sa bintana.Sa kahangawa nga mahulog sa ikaduwa nga panalgan sang building ang pinay, gin tinguhaan ni Anne nga estoryahon kg gin video pa ini apang wala gd bisan isa ka tinaga nga ginhambal sa iya.Sa pag pangusisa ni Anne sa pareho man nga mga pinay sa ila building, gin kilala ini kay Johan kg taga Zamboanga. Nahibaluan man nga 6 na ka bulan ini nga naga ubra sa Kuwait kg mabuot man ang iya mga amo. Depression kg homesickness ang gina tan aw nga rason sang suicidal attempt sini. Nagpasalamat nalang si Anne sang naghinay hinay sulod si Johan sa iya kwarto apang nakit an naman ini nga naga tindog sa kilid sang bintana kagab e.Gusto gd ni Anne nga mabuligan gilayun si Johan gani kabay makalab ut man sa ahensya sang gobyerno sa Kuwait ang iya post. Sa gusto makuha ang address sang pinay kg agud mapadasig ang pagrescue sa iya palihog kuntak kay :Anne Marie Deanon : 50480593Yari ang kabahin sang FB post ni ( Anne Marie Deanon ) isa man ka OFW sa Kuwait;Meron kaming katabi dtung pinay sa kabilang bhay Ang kaso d sya makausap ng maaus ni ayaw nya mag salita gusto na daw nyang umuwi kaso 6 months plg sya gusto naming syang tulongan pru d nmn alam kong paanu kac khit pangalan nya d nya ayaw nya sabihin may sakit na yata sya sa pag iisip nag lawas na sya sa pulso nya nakuha ko ung pangalan nya sa kakakulit ko pangalan nya at johann wla dn syang mobile no.dtu yan sa Address:block 5 st.13 Surra dko alam no.ng bhay nila.

Posted by Rmn Iloilo on Saturday, November 4, 2017