They say, people who are in-love are capable of doing the "silliest" and "craziest" things in the name of love.  They can do anything just to prove their love for their partner even if sometimes it already hurts.  But up to what extent can you love?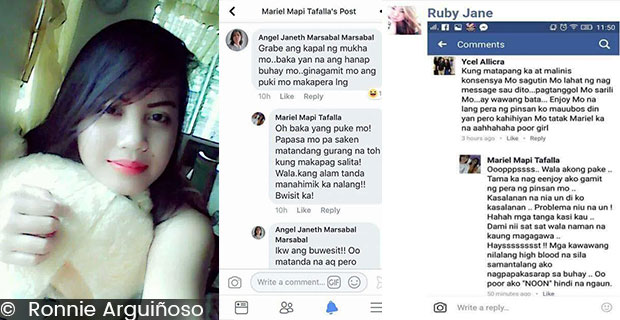 This real-life story of an OFW will leave your hearts aching but will definitely teach you a valuable lesson.
Recently, a Facebook user named Ronnie Arguiñoso shared a post on his timeline narrating his personal experience about an ex-girlfriend named Mariel Mafi Tapalla.  Ronnie said he asked help from Mr. Raffy Tulfo because Mariel allegedly took all his hard-earned money as an OFW when he entrusted to her his money as their savings for the future wedding.
According to Ronnie, Mariel was working as a house helper.  In 2011, he started courting her and eventually got her 'sweet' yes.  Few months after, he added that Mariel was complaining that she was already getting tired working as a helper. Ronnie then assured her that he will work hard so he'll be able to support her.
In 2012, Ronnie proposed to Mariel but she refused her proposal because they were not yet financially prepared. It was then that Ronnie decided to work abroad to earn more and save money for their future wedding.  He entrusted his ATM (automated teller machine) card to Mariel and his PIN (personal identification number) as well.
For the longest time, Ronnie had trusted Mariel his finances.  In fact, Ronnie had been supporting Mariel's family as well and had considered them as his own family, too, since he will be marrying Mariel. Not in his wildest dreams that one day, the way he looks at Mariel will be changed.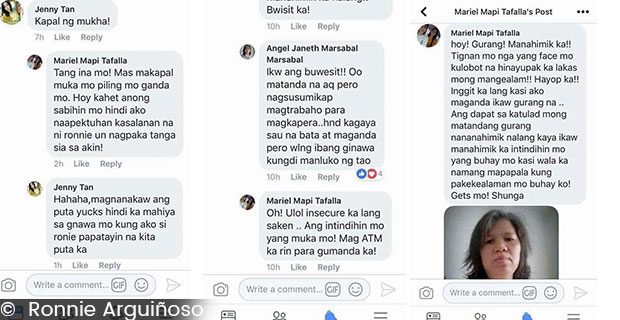 In July 2017, Mariel informed Ronnie that she will be going home to their province because her mother was sick.  She told him that she will stay there for 2 weeks. Ronnie gave in to her request.
After two weeks, Mariel informed Ronnie that she wanted to spend her birthday with her family.  Ronnie again submitted to her request.
Sensing that something was wrong, Ronnie did not remit money to his bank account in September and October and had waited for Mariel's reaction.  True enough, Mariel got so angry.
Soon, Ronnie was able to seek the help of his relatives to check on his bank account balance.  To his big disappointment, he found out that there was only P50.00 left on his account.
Apparently, starting the month of August, Mariel was withdrawing money from Ronnie's bank account using his ATM without his knowledge. She withdrew money almost every day.  In fact, her last transaction was done in Manila so Ronnie was surprised learning that she was not in their province anymore.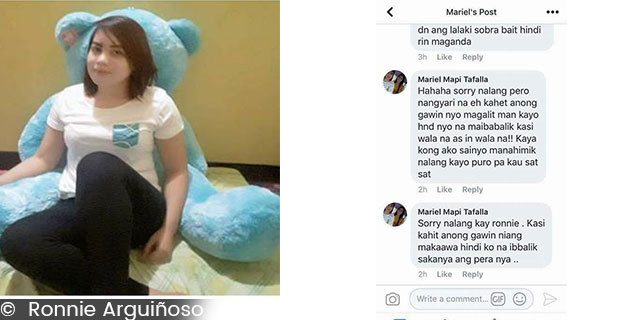 In November, pretending he didn't know what Mariel had done, Ronnie called and asked her about his money.  Mariel said his money amounts to P138,000.  Knowing that Mariel did not tell him the truth, he decided to immediately go home to the Philippines with hopes that he will be able to get back his money.    That's the time he sought Mr. Raffy Tulfo's help.
Meanwhile, Ronnie appealed to the public to stop judging him because he admits that he had made a mistake in trusting Mariel.  He also shared his story so that many will be more cautious in trusting other people their hard-earned money.
Sad though, Ronnie shared that his father is sick but he doesn't have enough money to support his medication after Mariel took his money.
It was in 2015 that their family was able to buy a house and had spent almost all their resources so his parents were also financially broke.  In fact, his father even sold his 2 tricycles just to fund the construction of their house so what Mariel did really hurts him badly as he even cannot afford to send his own father for treatment.
Ronnie hopes that people who were able to read his story had learned a valuable lesson.  He also appealed for people to understand him as he is not perfect.
All he knew was, he had fallen in love with a wrong person.