HONG KONG – Friends of the domestic helper who was stricken by cancer were trying to help the woman file a case for discrimination against the employer who fired her because of her disease.
They also want this case to be a wake-up call to the government against the maltreatment received by domestic helpers in Hong Kong.
Joan, 40 years old and a single mother was struck by cervical cancer between stages 3-4. She had her 20th radiotherapy last May 11 at the Tseung Kwan-o Hospital.
READ ALSO : A must See Reality: Other Side Stories of Domestic Worker in Hong Kong
According to her, she was awoken by her employer on the wee hours of May 1 and was told to leave because she already spent all her leave credits. All her belongings were then packed and was told to go to the church's shelter.
By that time, Joan already worked for two years and four months on her employer and just renewed the contract January of the same year.
Joan did not know what to do so she called her friend Carla Temporosa, who suggested that she should instead go to the police station.
2 A.M that same day, Temporosa rushed to help Joan. She also phoned the employer of her friend to condemn her for the inhuman treatment she offered to the sick maid.
"Sabi ko, this is illegal, this is inhuman", Temporosa said.
"But I don't have a boarding house," the employer replied.
READ ALSO : Pinay OFW in Hong Kong Fined for Eating Employer Meatballs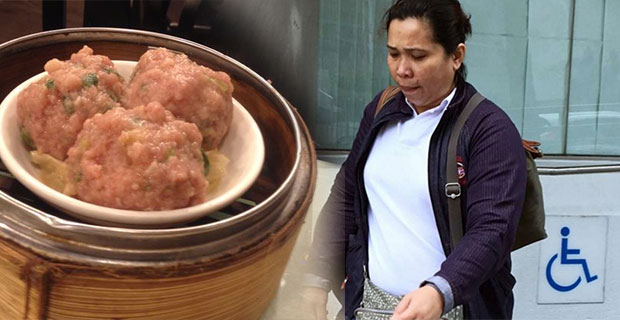 According to Temporosa, Joan is still lucky enough that she was still allowed to go out by her own employer on the wee hours of dawn.
After the incident, Temporosa's employer even allowed her to accompany Joan into her radiotherapy sessions and even paid for their expenses and transportation.
It is said that Joan took a day off last Apr 30 and went to a church in Yau Ma Tei. It was already around 8 to 10 pm when she came back. She was also allowed to sleep by then.
"Her employer could have told her then she needed to go, or waited for just a few hours the next day so Joan could have gotten help more easily," Temporosa said.
According to reports, Joan was diagnosed with cancer last March 5, after complaining of a swollen limbs. She never complained anything else prior to this except a mild stomach pain.
It was later found out that Joan had cervical cancer and needs continuous treatment. Despite that, she was still released from the hospital as long as she will continue her daily radiotherapy sessions.
Though her employer took her back, the lady employer refused to talk to her. She was not even allowed to use the washing machine despite her condition.
Still, Joan's employer paid her during the sick leave and was reportedly given $10,000 on her last day.
"Maganda naman kasi ang relationship nila dati," said Temporosa.
After what had happened, Helpers for Domestic Workers advised Joan to file a case against her employer in accordance to the Disability Discrimination Ordinance.