Being too nosy can sometimes lead to trouble. This OFW shares a funny yet remarkable story of her own experience abroad.
This person had a dose of her own medicine when she gargled an intimate wash instead of a mouthwash.
The story was posted on Facebook which happened last May 3, 2017.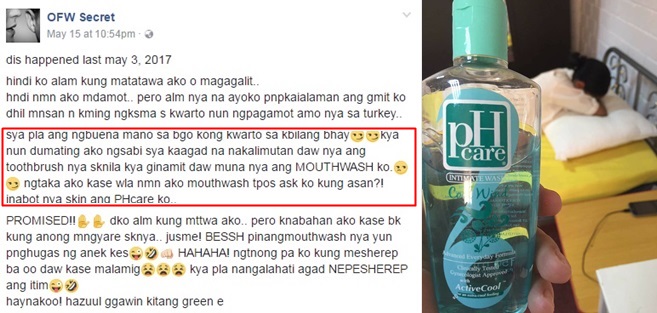 According to the OFW who posted the story, she really hates people who are too nosy but clarifies that she is not selfish.
Sadly, she has this one roommate who tend to use her things without permission. When they met, the woman confessed into using her mouthwash because she forgot to bring her toothbrush.
Confused, since she do not have a mouthwash, the other woman gave the bottle of PH Care feminine wash already half-filled.
The OFW was too shocked to even get mad. She even asked if it tasted good and the nosy one said yes especially because it feels cool.
Sharing a room with other nationalities when you work abroad is truly a pain in the ass. You will have to deal with their craziness but you cannot complain to avoid confrontations. Nonetheless, living abroad is never that easy.
The Facebook post was shared 8,953 times and commenters were laughing all the way.
See the Full Post below :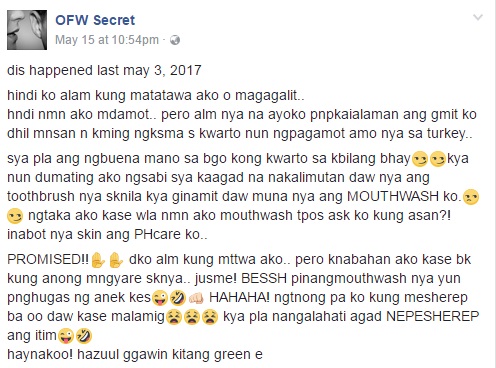 dis happened last may 3, 2017
hindi ko alam kung matatawa ako o magagalit..
hndi nmn ako mdamot.. pero alm nya na ayoko pnpkaialaman ang gmit ko dhil mnsan n kming ngksma s kwarto nun ngpagamot amo nya sa turkey..

sya pla ang ngbuena mano sa bgo kong kwarto sa kbilang bhay kya nun dumating ako ngsabi sya kaagad na nakalimutan daw nya ang toothbrush nya sknila kya ginamit daw muna nya ang MOUTHWASH ko. ngtaka ako kase wla nmn ako mouthwash tpos ask ko kung asan?! inabot nya skin ang PHcare ko..
PROMISED!!️ dko alm kung mttwa ako.. pero knabahan ako kase bk kung anong mngyare sknya.. jusme! BESSH pinangmouthwash nya yun pnghugas ng anek kes HAHAHA! ngtnong pa ko kung mesherep ba oo daw kase malamigkya pla nangalahati agad NEPESHEREP ang itim
haynakoo! hazuul ggawin kitang green e