Cebu Pacific has been subjected for investigation by the Department of Transportation  (DOTr) after runway delays have been reported including one woman who fainted and several passengers suffering from uncomfortably hot atmosphere on its Manila to Cebu  flight last Friday, June 16.
Cebu Pacific was required to submit an incident report  by CAB Chief Legal Officer and lawyer, Wyrlou Samodio. The DOTr also instructed the Civil Aeronautics Board to check closely  on the incident after videos and photos  went viral which  were posted by  one among their passengers, Gin Durano, showing passengers of Cebu Pacific flight 5J 575 fanning themselves of humidity within the cabin for delayed departures.
DOTr said, "Should DOTr-CAB find out that Cebu Pacific Flight 5J 575 went beyond the prescribed 2-hour period to deplane its passengers due to long tarmac delays, Cebu Pacific shall be held liable for the penalty prescribed under the regulation."
"Further, if found to have violated the regulation, the pilot shall likewise be held liable as he has the obligation to order the deplaning," it added.
In such case, said the DOTr, the Civil Aviation Authority of the Philippines would take action, having jurisdiction over airmen.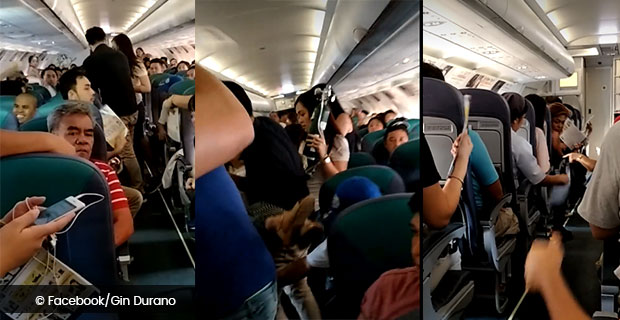 "Babies are crying, old people are complaining and there's a woman [who] got suffocated and now she has oxygen on because she can't breathe. We've been here for more than an hour inside the plane.
Freaking d*** hot!," Durano uttered.
"They didn't even do anything until [a] woman passed out. I Super Love You Cebu Pacific!," she said with great disappointment.
The said flight was scheduled to be leaving Manila bound to Cebu at 5:05 in the afternoon.  According to the airline, the cause of the delay was due to debris which blocked the runway  and needed to be cleared.
Cebu Pacific gave assistance to the passenger who fainted around 6pm through  an ambulance and medical crew who came in to provide medical attention.
"Around 6 p.m., dumating na ang ambulansya, then the passenger had already been attended to. The pilot, the crew, requested for another aircraft. The pilot deemed it prudent to request if the aircraft could be replaced," she said.
Afterwards, the passengers deplaned and were transferred to another plane. The flight finally took off around 7:30 p.m., and arrived in Cebu at 8:52 p.m.
"Following reports from our crew that the cabin temperature was warm, Cebu Pacific decided to change the aircraft for the comfort of our passengers," a representative from an airline said.
Gin Durano Video 1 
Charo Lagamon, Director for Corporate Communications regarded  the incident to "a confluence of factors beyond our control," which made its passengers feel distressed.
"There were some passengers who became unruly. The FB post only shows some of it, there were some shouting, they got hot-tempered, and shouted at the crew," she said in an interview.
Gin Durano Video 2 
"There was another who got nervous, and the medical team had to calm her down. Security had to come in," she added.
Lagamon said the flight crew disctributed water to the passengers during the wait.
"These are things that we did not want to happen, but nonetheless we immediately assisted," she said.
Gin Durano Video 3
As of this Press time, Cebu Pacific said they were still conducting investigation as to why the temperature went up in the cabin or if there was any aircraft issue.
Source (s) ABS-CBN | Gin Durano