KUWAIT – Another Overseas Filipino Worker is asking for help through social media because her employer is preventing her from going home despite her incapacity to work.
A certain Bogabil Bhady Noemie is suffering posted a video in her Facebook account about her current condition in Kuwait, where she is currently working as a domestic helper.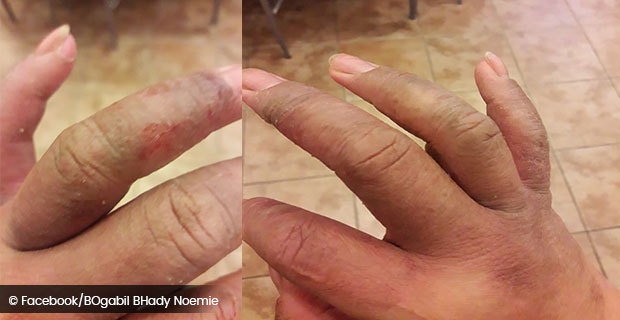 In the video, she showed her hands and arms which is already full of wounds after working too much. According to Noemie, she is suffering from this condition for almost a year now. Her hands are covered with wounds because of allergy.
She tried to ask permission from her employer to go home but they refused to give it unless she could pay for all the expenses they spent so she can go to Kuwait. She also tried to ask for help from her agency, OWWA and Philippine Embassy but they failed to assist her. Instead, she was advised to escape from her employer's house and go to the Philippine Embassy.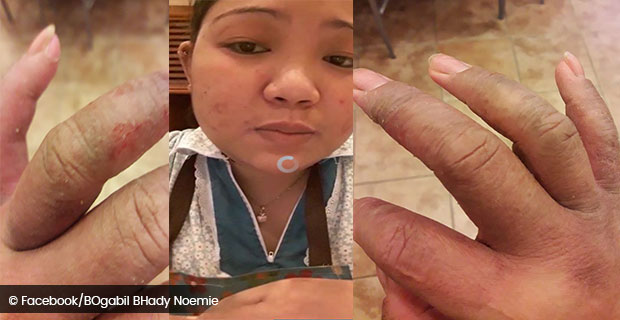 Unfortunately, Noemi is afraid to escape.
"Natatakot po akong lumayas eh. Kayo nalang po ang pag asa ko makatulong sakin. Sir, kailangan ko na pong makauwi para nap o mapagaling ang mga kamay ko, ayan po oh, ang dami daming sugat na yan, tinitiis ko araw araw para mag trabaho," said Noemie while showing her hands to the camera.
According to her, even after complaining about her condition, her employers still forces her to work. Her allergies has already reached her stomach. The wounds are also very painful especially when exposed to water. Even her lips were swollen.
Noemie's allergy might be the result of too much exposure to strong detergents that she is using to clean her employer's home.
Netizens were keen to respond, relaying their concern on her but unfortunately, others are not quite convinced.
"Nku ate Hindi LNG ikaw ung nagka ganyan,,gamutin mo nlng yan,,tlgang ganyan kz ung matatapang ung lahat ng ginagamit ntin,,nagpunta tayo sa ibang bansa para kumita Hindi para gumanda ang mga kamay ntin sure nmn papangit yan kz nagtatrabaho tayo,,gamutin mo nlng yan kz Hindi ka pakikinggan ng agency kz,,mababang klase yan ng dahilan,,lahat tayo nakaranas yan depende sa,nagdadala,,yun LNG naka gold kapa nga ate,,Hindi ka mukhang kawawa,," said Margaret Landicho, who even showed a photo of her hand already recovering from severe wounds.
The Facebook video was viewed by the public 601,372 times.