Ramadan is the name of the ninth month in the Islamic calendar and is considered the holiest month by the Muslims.  It is also a crucial period for practicing Muslims to perform some of its religious beliefs such as prayer and doing charity works.
The Prophet Mohammed explained: "When the month of Ramadan starts, the gates of heaven are opened and the gates of Hell are closed and the devils are chained."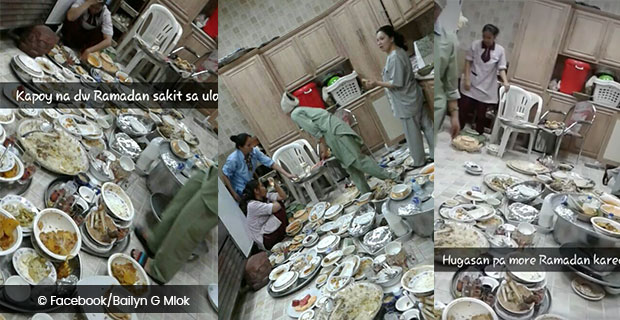 While for others who preferred to practice fasting during Ramadan, it is something much more than that, it is a  devotion to their faith.
Ramadan may  also be a time where family and friends get together.  It is also a time for reflection.
And when there is meeting of family and friends, definitely, there will be a celebration or a feast. And when there is a feast, more plates, glasses, saucers and other housewares were being used.
This  was the dilemma of a domestic helper named Bailyn G. Mlok working in Kuwait.
First Video : 
The house of her employer as seen in the video has been flooded with dirty tablewares (plates, saucers, glasses, bowls) after having a get together with family and friends.   The helpers didn't actually knew where to start cleaning.
Second Video :
There's really a lot of dirt to clean up and I just wonder how long it will take them to clean up the mess!
As it is a celebration for the Muslims, it seemed like a total mess for these helpers!