A mother is an epitome of unconditional love and there's no other love that can be  greater than the  love  that she has for her children.
Bound to leave as an OFW to try her luck, the greatest sacrifice that a mother would do is to leave her children behind.
For others who will be working as a "yaya", it is even more painful taking care of other's children while letting her's to be growing on their own.  A very heartbreaking reality  that they have to accept to be able to augment the lives of their children awaiting for their sweet comeback.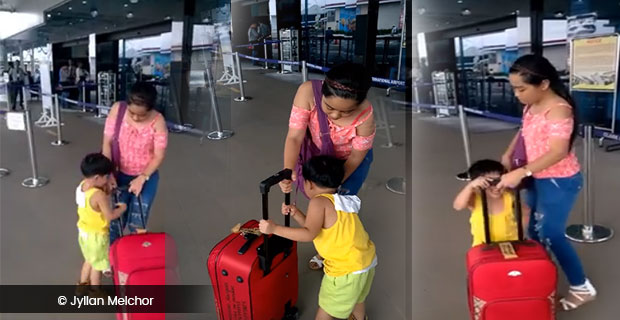 A video filmed by her husband and posted by Jyliar Melchor on her Facebook account, showed the actual scenario on the day that her family accompanied her to the airport before the flight.  Her son was dragging her bag and won't let her go. So touching!
Netizens commented and said that  they should have not  let the child go to the airport so it wouldn't be painful for him to see his mother go.  It could have been  so traumatic for this child, but I'm quite sure it  was even more painful for the mother.
A salute to all the mothers working as an OFW!
You endured the most pain that made you even stronger. And no wonder, you were indeed  the toughest!
Watch the video below : 
Papa Jimmy Melchor,ayaw n tlg nya ko umlis???..sama dw sya

Posted by Jyllan Melchor on Monday, June 12, 2017