Overseas Filipino workers (OFWs) today are urging the Department of Labor and Employment (DOLE) through secretary Silvestre Bello III on the fees impose on getting an OFW ID or known as iDOLE.
Yesterday the department initiated the launching of the iDOLE or OFW ID card. Apparently, during public announcement the iDOLE card will be free of charge.
Saudi-based Filipino community leader John Leonard Monterona, however, noticed that upon applying online at the department's website (https://idole.ph) to avail his own OFW ID card there are fees being charge to OFWs.
See attached snap shot of Monterona's iDOLE ID online application.
"I was surprised that there were charges in getting our OFW ID card. The card's cost Php 501.00 and for Philpost delivery Php 200. So, a total of Php 701.00," Monterona lamented.
Monterona said some fellow OFWs in Saudi Arabia have urged him to call the attention of DOLE sec Bello and the POEA to explain about these charges.
"Many OFWs welcome the iDOLE/OFW ID card. But upon knowing now that there will be fees on getting it, then we would probably chose not to avail the iDOLE OFW ID," Monterona added.
He added that if DOLE would insist imposing charges in getting an iDOLE OFW ID, then the Filipino community in Saudi Arabia and in the Middle East would lead the call to Pres. Duterte to let the 12-M OFWs get their iDOLE OFW ID free of charge.
"We are hoping that DOLE sec. Bello would act on this. Otherwise, Pres. Duterte, whom we think is a pro-OFW, would be in a bad light because of these unnecessary charges to OFWs," Monterona adding "Pabigat lng eto sa aming mga OFWs eh!"
For reference:
John Leonard Monterona
Filipino community leader
Riyadh, Saudi Arabia
Mobile No. +966 53 908 1974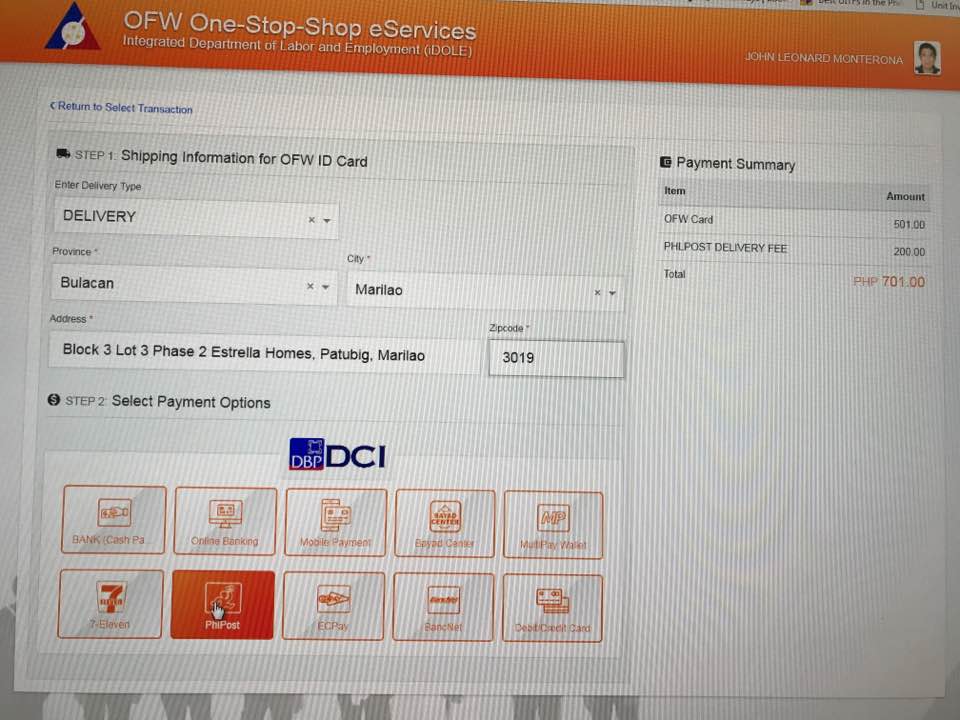 Image by John Leonard Monterona