On December 5, a Filipina is determined to push a case before the Labour Tribunal in Hong Kong against an employer's companion for physical and mental abuse.  She will also demand payment for 6 months unpaid wages including her overtime pay and other compensation.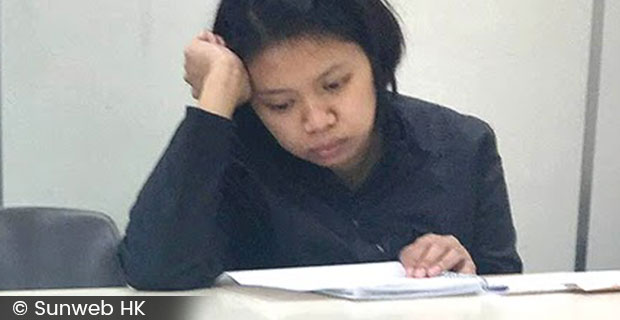 In a previous report, 27-year-old Lanie Grade Rosareal and fellow domestic helper, 36-year-old Rowela Subiono Suete fled their employer's house in Tseung Kwan O on November 9. That time, Rosareal was able to file a police complaint for physical assault against their employer's companion named Au Wai-chun who was a 65-year-old retired civil servant.
It was then learned that Au Wai-chun had been convicted last September 1, 2014 because of scalding a Bangladeshi maid with boiling water.
On November 21, both Rosareal and Suete met with 63-year-old employer Leung Sher-ying at the Labour Department office in Kwun Tong.
In Rosareal's claim that her salary is being held, Leung said it was Rosareal's decision to give it all to Au per month as penalty per their arrangement that every time she committed an error or a damage, she would have to pay for it.
On the other hand, Leung demanded the equivalent of one month salary from both of the helpers for breach of contract and without giving prior notice when they escaped. Leung said she was willing to drop her demand provided she will not also be required to pay Rosareal's work for 19 days.
Likewise, she also said that she will not pay Suete's return air fare to the Philippines, instead, she would personally buy the ticket herself.
However, the Filipinas rejected Leung's offer and agreed that they will bring the case to the Labour Tribunal for their next move.
Apparently, Rosareal filed a labor case against Leung and listed a claim totalling around $50,000. $31,500 as unpaid wages for 6 months and 19 days; $4,210 monthly pay in lieu of notice; severance pay amounting to $10,600 and the rest as food allowance and for return airfare.
In fact, the labor officer said Rosareal could even demand additional claims because of her injuries.  But then, Rosareal said more than the unpaid wages, it was the abuse that she wants to get vengeance for.
Rosareal then recounted the days when she had a good relationship with both Leung and Au.  She shared that she even accompanied them in court during the Bangladeshi maid's case.  But things turned out not so good early this year since Au started complaining being allegedly tortured.
She also recounted how she received the beatings from Au and being punished for errors such as allegedly not ironing the clothes properly or not taking some black particles out of the congee which he was eating.
Au then who was in a wheelchair would go rounds and would kick Rosareal from her back whenever she refused to kneel before him and would hit her forehead towards the floor.
Meanwhile, the two helpers were staying in a shelter while waiting for the schedules of their future case hearings.