Overseas Filipino Workers in Dubai got the chance to see the much-awaited OFW card. This new identity card will undergo a pilot run for three months before it will finally replace OEC, also known as exit clearances.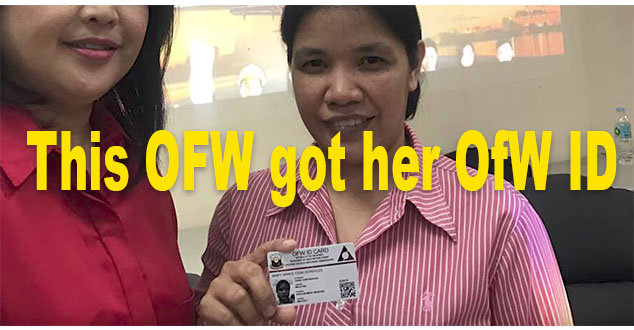 Image Credit GulfNews
This unified ID will be free of charge as announced by the Department of Labour and Employment Secretary Silvestre Bello III.
This OFW ID is said to be the ultimate gift of President Rodrigo Duterte to our modern heroes, the OFWs. This will allow OFWs to easily pass through Philippine Immigration counters and will give them added security against illegal recruiters.
The soft launch will be held this coming Wednesday at Camp Aguinaldo, which will participated by DOLE Undersecretary Ciriaco Lagunzad III and the President himself.
"The president will be present during the printing of the OFW card," said Lagunzad.
A memorandum of understanding is set to be signed by the APO Production Unit (tasked to print OFW IDs), Development Bank of the Philippines and Philpost, together with DOLE and POEA, as government partners in implementing this unified ID.
The launching of this ID system will undergo different stages before the official removal of OEC.
"Although the card will be launched on July 12, we will still continue processing OECs just like in the past but at the same time issue the OFW ID until the whole process is fine-tuned. We expect for this pilot run to take roughly three months," Lagunzad added.
Jingles Ardiente, head of the Balik Manggagawa (BM Online) at POEA and Dave Almirol, OFW ID Card System consultant, during the test run of the OFW card with a select group of OFWs.
Photo Credit: GulfNews
A test run was also conducted by Jingles Ardiente, head of BM Online, and the results were promising.
Labour Attache in Dubai Felicitas Bay is also waiting for the OFW ID's guidelines.
"Since the IDs have not been issued yet, Filipinos who are not exempted from getting OECs will still have to apply for it for now. We advise our kabayans to regularly check the POLO Dubai portal for the latest updates on this matter," said Bay.
How the OFW ID Works
OFW ID is free of cost.
You do not need to apply for it. POEA will automatically issue the ID to OFWs who are already in their database. They will then send the acquired data to DOLE's cloud database.
The cardholder can use it to any government transactions like when getting police clearances, beep card for metro and debit card/ATM.
Source :Gulf News