Last Friday, good news for all parents and students had been announced in a forum by Senior Deputy Executive Secretary Menardo Guevarra when President Rodrigo Duterte signed a new law which provides free education for millions of students in public tertiary and vocational schools nationwide.
The said law has been ratified by Congress last May and has been transmitted to the Office of the President last July.  The law which will be known as The Universal Access to Quality Tertiary Education Act will provide free tuition fee to students from State Universities and Colleges (SUCs), local universities and colleges and government-operated technical and vocational schools.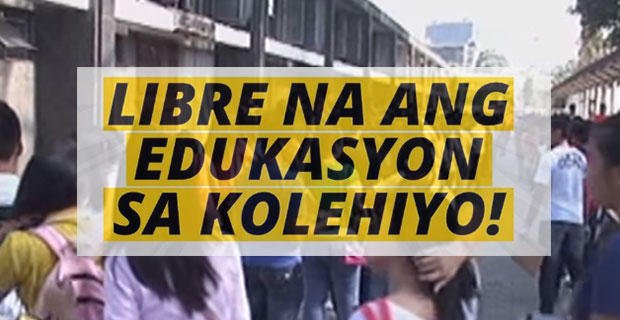 For the school year 2017-2018, around 8 Billion was allotted to cover free tuition fees for 2017's yearly budget.  This is aside from the cash grants that would be offered by the Commission on Higher Education which was announced last June 16.
However, Budget Secretary Benjamin Diokno told lawmakers that the law would be costly on their part as the the 2018 budget does not include the cost of providing full tuition assistance to SUCs.
"In the absence of any law, we cannot appropriate money for free tuition," he said. "We estimate that the cost of this bill, it will cost us something around ₱100 billion. Hindi po kaya ng gobyerno 'yan, " Diokno said.
See also post of  Bam Aquino :
He added that students from the middle class and the upper class are those most likely to benefit from the scheme as only students belonging to those classes were the only ones who can afford to  go to state universities. On the other hand, only 12% of the poor get to the state universities.
"Only 12 percent of the poor get to the state universities, 12 percent, and when you say free tuition, you are actually subsidizing the rich,"Diokno uttered.
Watch below : 
However, Bayan Muna Rep. Carlos Zarate and some law makers contradict what Diokno had approximated as the cost for the bill saying the free tuition law would cost only around ₱15 billion and not P100 billion during a meeting held last August 3. He also said that the government should not say that they cannot fund the said move.
"Hindi po totoo ang sinabi ng economic managers na hindi kayang tustusan ng gobyerno," said Bayan Muna Rep. Carlos Zarate. "Napatunayan natin ngayong taon, may pondo para sa state universities and colleges.Hindi nila pwede sabihin na ngayong taon 'di kayang pondohan."
READ ALSO : List of State Universities and Colleges in the Philippines Free Tuition Starts in 2017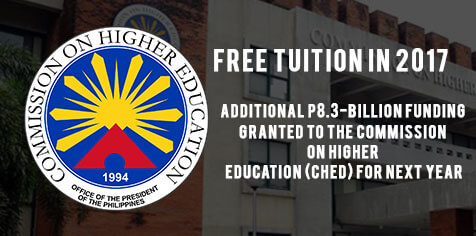 Zarate also pointed out that if the government could set aside ₱8-9 trillion for its infrastructure programs, it should be also able to fund education as a better form of investment.
Senate Minority Leader Franklin Drilon on the other hand expressed his opinion saying the government only needs around ₱20-25 billion for the law to materialize.
For how much this newly-signed law may entail the government to shed out some of its budgets, for sure, there will be happy students and parents who will thank the government for providing this Act.  This could only mean that the government is now taking Education seriously in a deeper sense. .
Source: CNNPhilippines