Last August 20, 2017, the Asian Migrants Coordinating Body (AMCB), one of the biggest migrant worker's groups in Hong Kong, had a protest held on Chater Road, Central to voice out to the HK government their call for a salary increase among its foreign domestic workers.
Currently, the minimum allowable wage set in the country per month is HK$4,310 and a food allowance of HK$1,037 for those workers whose meals were not provided by their employers.
"The measly increases of the MAW for the past years are very much insufficient to reach a living wage for MDWs. Inflation in Hong Kong is constant, yet the wage of MDWs are not adjusted accordingly against the upward trend of the cost of commodities and of living in HK," AMCB declared in its statement.
Apparently, the group is demanding that the monthly minimum salary be raised to HK $5,500 (US$706) and HK$2,500 (US$321) for the food allowance.
Eman Villanueva, the spokesman of AMCB said that their protest was primarily focused on 3 Ws: Wage, Working hours and Working & living conditions and how it affects the health of the workers.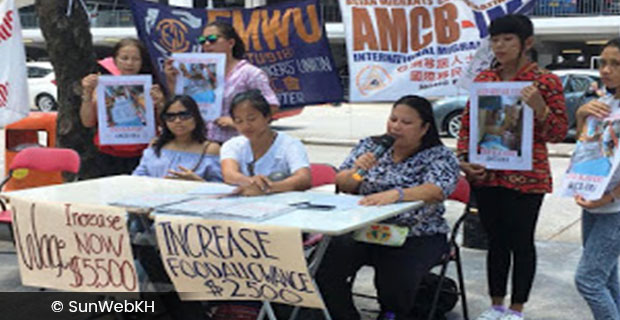 As such, the needed salary increase will compensate the cost of living in Hong Kong and the food allowance will ensure that they are properly nourished and in good health so they can perform in their work effectively and efficiently.
Joining the rally was Mariel Tadalan, a Filipino domestic helper who had recently won her case against her employer who made her sleep on the terrace and on the kitchen floor.  She was given the privilege to speak for which she called for a decent sleeping arrangements for all the domestic workers.
The group also demanded that mandatory live-in arrangement for workers be abolished stating that the numerous cases and evidences of its negative impact should trigger the government to review the said policy.  They also emphasized that the accommodation arrangement should be in mutual consent by both parties.
As of press time, the group expressed their intention of having series of protests while pushing the possibility of having a dialogue with the legislators and Hong Kong officials to voice out their requests.