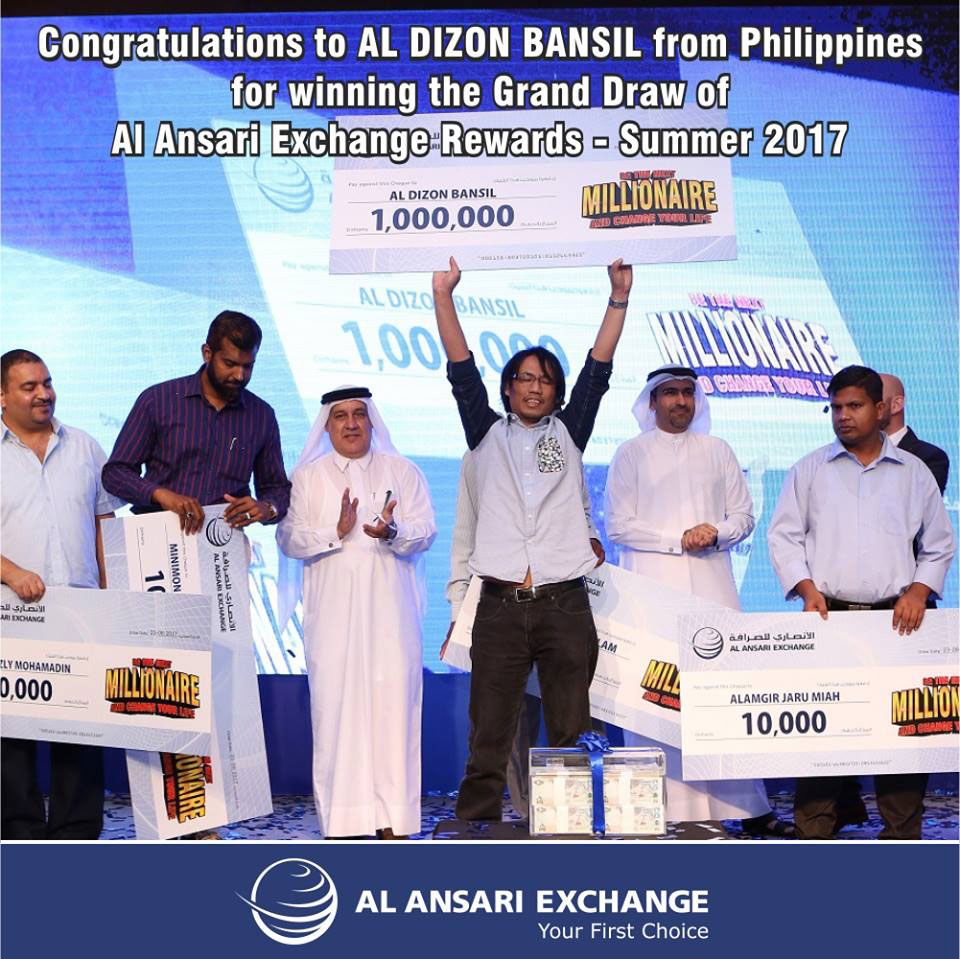 Al Dizon Banzil from Philippines, the winner of AED 1,000,000
Recently, a Filipino won AED 1 Million as the Grand Prize Winner of a seasonal promo in United Arab Emirates.
The world congratulates Al Dizon as he was proclaimed to be Al-Ansari Exchange's 2017 Millionaire on August 23, 2017 at a gala ceremony in Dubai.
Al-Ansari Exchange is a foreign-based exchange and worldwide transfer company in UAE.  Last June, the company had launched its Al-Ansari Exchange Rewards Summer Promotion 2017 which gives chances to its loyal customers to bring home great prizes and the grandest of all, the chance to bring home AED 1 Million, the biggest prize money in the industry.
Rashed Ali Al Ansari, the General Manager of Al Ansari Exchange stated, "The successful Al Ansari Exchange Rewards – Summer Promotion is a highly-anticipated event for our customers as it gives them the opportunity to win grand rewards. The overwhelming response to the past editions of the Summer Promotion is a key driving force for Al Ansari Exchange to continue to offer more value to our loyal patrons and we are confident that they will show similar response to this year's promotion."

 First draw winner of Al Ansari Exchange Rewards – Summer 2017:
SYLVIA LIZARDO VALDEZ from the Philippines 
The two-month long promotion entitled each customer to be legible for the draw for every valid transaction they make including money transfers, e-Exchange or Al-Ansari Exchange Mobile App, Foreign Currency Exchange, purchase of National Bonds above AED 1,000, Air Ticket Payments for Air Arabia and Fly Dubai, An-Ansari Exchange Travel Card Purchase and Tourist Visa Payments.
The said promo ran last June 15 to August 14, 2017.
Again, Congratulations to our very own "kababayan", AL DIZON!