A Facebook post of a certain Jho Cabagyo on his account has been circulating on the net after he called for support from his friends and concerned citizens to share his post to warn people particularly those who travel of their unpleasant experience at the airport.
According to Cabagyo, their disgusting experience happened last August 6 on their flight going home to the Philippines from Singapore to surprise his mother for her 60th birthday celebration.  He said they usually book their tickets at Singapore Airlines but airfare's rate was so high by that time so they opted to take Philippine Airlines (PAL) instead. Cabagyo was at that time travelling with his girlfriend.
Everything seemed well since there was no delay in their flight schedule and the entire flight from Singapore to the Philippines went smoothly.  However, when they landed at the airport, that's when the distressing incident started.
Cabagyo and his girlfriend carried 4 bags with them. And since Cabagyo and his girlfriend took the Business Class flight, they were able to get their bags in no time but noticed that out of their 4 bags, they were only able to get their 3 bags and had the other one missing.
After 10 minutes, they saw the missing bag and to their surprise, they found out that the bag doesn't have it's padlock anymore! So they started checking the bag and to their big  disappointment, the zipper was opened and the money that they put inside was also missing!  The exact amount of money was not mentioned in his post but Cabagyo assures its not only hundreds of pesos, but thousands of it.
Immediately, they went to the Baggage Assistance Counter to seek for help and state their concern.  Pissed off, Cabagyo said they were not entertained properly which provoked him to yell at the airport personnel.  That prompted them to attend to their complaints.
One airport personnel said that the only thing they can do with the case was to make an incident report. She also said that she was just following a certain procedure.
It was so clear that there was a certain procedure to follow which  Cabagyo clearly understood.  But he said, what he cannot understand was, why was there an incident like this happening inside the airport. He said he even looked for the manager on duty but he didn't find one at that time.
On that note, he said he is willing to brought this out to social media if they will not look after their complaints.  Cabagyo said that was the time the airport personnel started to ask questions and appeared to be interested .They made a report and instructed them to wait for a call from the Claims Department of Philippine Airlines. But Cabagyo insisted for an answer right away, he said.
Shortly after, an airport police approached them and checked on the recordings on CCTV. It showed that their last bag has been left for more than 10 minutes and was already in the custody of PAL. The next occurrence was not recorded as it was no longer within the scope of the CCTV.   But according to them, the bag was already under PAL's possession.  The police said they need to  coordinate with Philippine Airlines.
Cabagyo expressed his disappointment with his personal experience at the airport. The worst thing that he felt according to him was not being given an answer for his opened bag and his lost money per se. He said he is not considering to take any PAL flight anymore in the future.
He also added that the airport authorities might be blaming them somehow for putting money inside their bag but he emphasized that nothing could be worse than opening the bags and losing the hard-earned money of their passengers.
Cabagyo ended his Facebook post with some pictures of another passenger who according to him was also a victim after discovering that her bag has been opened and some things inside it were missing.
For Philippine Airlines, the official flag carrier of our beloved country, may you be able to settle this issue and gain back the trust and respect of our fellow citizens.
May this also serve as a gentle reminder for all travelers.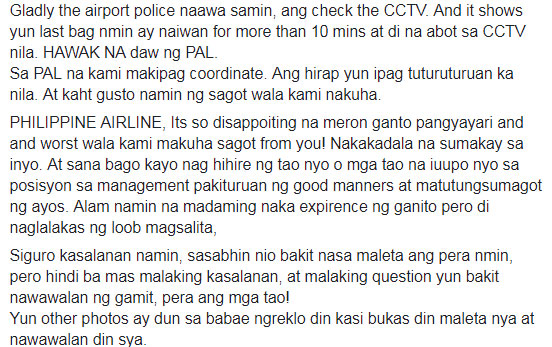 See full post below :
Sa mga kaibigan ko, tulong please. pakibasa at pakishare para makarating sa dapat.Before hindi ako naniniwala sa mga…

Posted by Jho Cabagyo on Sunday, August 6, 2017