An OFW working in Kuwait named Lyn de Guzman went to Raffy Tulfo's Teleradyo program last week  to cast complaints against a certain Col. Anselmo Tugade, Jr. who allegedly betrayed de Guzman for not telling the truth that he was already a family man.  She also said that Tugade had also asked a sum of money from her for his personal needs.
De Guzman and Tugade was said to have fallen in-love with each other after they get to know each other through Facebook.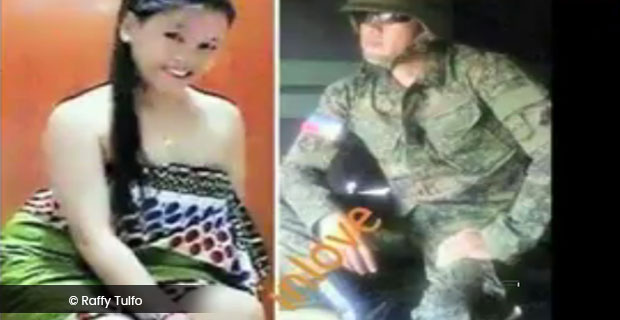 The OFW discovered that her lover was no longer single after she saw pictures of their family posted by Tugade's wife on social media who later on messaged and confronted her after learning their relationship.
Believing that Tugade had betrayed her by not telling the truth, de Guzman desired to get back the money back that she gave to him which totaled P 50,000.  Based from her narration, the said amount was used by Tugade to buy cellular phones and some part of the amount was used as an additional budget for his daily expenses.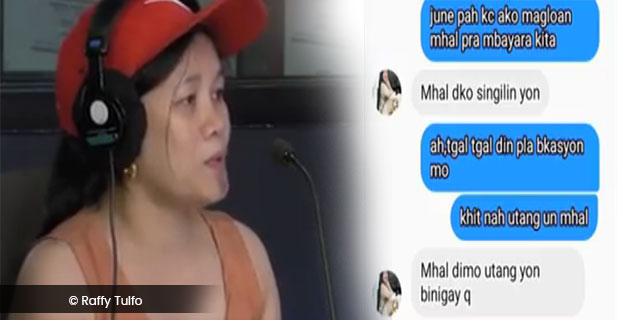 According to de Guzman, the first P12,000 was given to Tugade when he said that he needs to purchase a new cellular phone.  It was followed by an additional P 18,000 to purchase replacement of the first cellular phone which Tugade said, has been damaged.  The recent money  given to him by de Guzman was last March 15 amounting to P20,000 which was said to be allotted for purchasing a new motorcycle.
Raffy Rulfo phoned and asked  the assistance of Col. Ray Tiongson, PIO (Public Information Officer) of the Philippine Army regarding this case and said that he will look closely on the matter.  Should Tugade be found  to violate certain rules being a soldier after series of investigations have been conducted, punishment will be given to him.  Tiongson also urged de Guzman to file a formal complaint against Tugade.
Last August 1, Tugade personally appeared to Tulfo on his teleradyo program and cited his side in defense of what de Guzman had previously publicized.  He also  brought with him some proofs to establish the truth to his testimonies against what was first said by de Guzman.
According to Tugade, de Guzman was aware that he was already married and that she said it was just fine for her  to be his mistress.  However, de Guzman who has been put live via a phone patch joined their conversation and strongly denied what Tugade had earlier stated.
Tugade also said that he will not pay for the money that was given to him because he did not asked for it.  He said that the money was freely given to him by de Guzman.
Exchange of statements had transpired between the two which boiled down to one thing,  that the two had a personal misunderstanding.  Tulfo just suggested that the two settle their differences as the discussion was somehow touching matters that were already private and confidential.
Tulfo allowed de Guzman and Tugade to set the date, time and place of their meeting.
Last August 4, a staff from Raffy Tulfo in Action program called Lyn de Guzman to ask how well her meeting with Tugade went. She concluded that their conversation went smoothly.  De Guzman also said that she will no longer demand the money back from Tugade. She was also giving up their relationship in respect to his real wife and most importantly, for the sake of Tugade's children.
Raffy Tulfo's staff also called Tugade to cross check if his statements will match with what de Guzman had earlier narrated.   Their statements were found to be the same.
They also agreed on one thing……that they consider themselves BFFs (Best Friends Forever).
These Lovers became enemies and ended as  BFFs.  Still a sweet ending, don't you think?
Watch below : 
OFW, nainlove sa nakilala niyang sundalo sa FB at naging galante sa pagpapadala ng pera para sa mga luho niya.Pero nang may nadiskubre siyang lihim ng tinuturing niyang kasintahan, naghalo ang balat sa tinalupan!!!#raffytulfoinactionwww.youtube.com/raffytulfoofficialwww.raffytulfoinaction.comsong: Lovingly Yours – Paul De Senneville:

Posted by Raffy Tulfo in Action on Friday, August 4, 2017