After failing to release the OFW ID card of OFWs last August as previously announced, the Department of Labor and Employment (DOLE) committed for the much-awaited full issuance of the said card on October.
According to Labor Secretary Silvestre Bello III, to ensure that the processing of the cards be expedited, he had formed a task force that will come up with implementing guidelines by the first week of October so that the release of the OFW ID card will materialize by the end of the same month.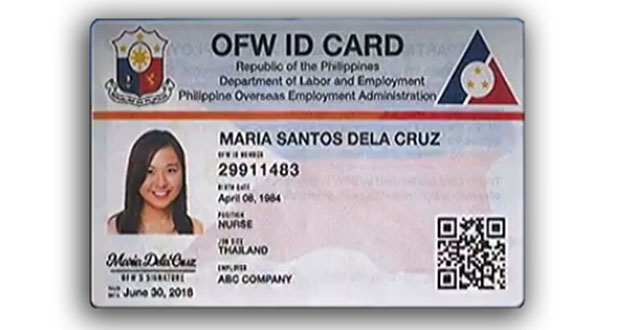 "One of my instructions to them is that the guidelines should come out by the first week of October and the I-DOLE card should come out ready for delivery by end of October," Bello said.
The said task force will be under the supervision of Undersecretary Ciriaco Lagunzad III who will closely monitor the whole procedure.
RELATED : How To Get an i DOLE OFW ID Card
"I just want to make it very clear na itong iDOLE is free for all the overseas Filipino workers. Libre po yan. Ang daming nagpakalat sa social media na may my bayad na Ph500, Ph200. Wag po kayo maniwala. Huwag po kayong maniwala. It will be given to all OFWs for free. Kung meron yang bayad, hindi na lang itutuloy ang programa," he said.
Secretary Bello however reiterated and clarified that the I-DOLE is free of charge for all Overseas Filipino Workers (OFWS).  This is to disregard what has been previously falsely circulating on social media that the said card has to be paid with either P200 or P500.00.  He further emphasized not to believe on these false information.  He also claimed that should the card be required to be paid by the OFWs, he would rather not implement the issuance thereof.
Apparently, the I-DOLE is not just an ordinary identification card as it serves many functions like NBI verification, Immigration and other government institutions including the Department of Foreign Affairs. It is also envisioned to be used for purposes of remitting government contributions and loan payments including that of SSS, Pag-Ibig Fund and Philheath.
"With the card, you will be able to go to a site where you can enter into the portal of the various agencies. You can verify whether your contributions have been paid and make sure they are up to date. It is a virtual one-stop shop," Lagunzad concluded.
Source – Filipinotimes