Loneliness is among those factors that OFWs had to battle with as they leave their families to work abroad.  Many find it difficult to cope with homesickness while others who find new friends can easily adjust in being alone.  However, in search for new friends to cope with so much loneliness while being away most especially for those who are already married, sad though, many fall into committing adultery which produces broken marriages and broken families.
Recently, a post on social media by a certain Enan Bravo had gone viral after sharing a heart-breaking story of their family involving his OFW wife who was working in Riyadh,  Saudi Arabia.  He was feeling broken-hearted after his wife for 21 years had left him and their 4 children for a man he never knew how she met.
According to Enan, he was working as a company driver.  And since his income cannot suffice the needs of their 4 children who were all girls, his wife decided to work abroad.  Enan said that during that time, they even had many plans and dreams which serve as a motivation for his wife to leave.  On the other hand, he promised that he will take good care of their 4 children and look after their needs while their mother was away.
Enan claimed that his wife was sending remittances regularly from the time she left on September 2015 so he was able to pay all their bills and able to meet the needs of his daughters.  They were also in constant communication then as she always calls and updates them on her condition.
But then, at the start of year 2017, he said that his wife seldom sent money anymore and would rarely give him a call. He became so worried about her not until she called on June saying she will accompany her employer to Lebanon to visit the sick parents and would not be able to send money for the mean time.
On that note, Enan mentioned to his wife that they needed money to pay their house rent and allowances of their children for school. But the wife just told him to borrow money and tell their landlord that they will just pay on October, the time she will be able to get her salary.  And that was what Enan did.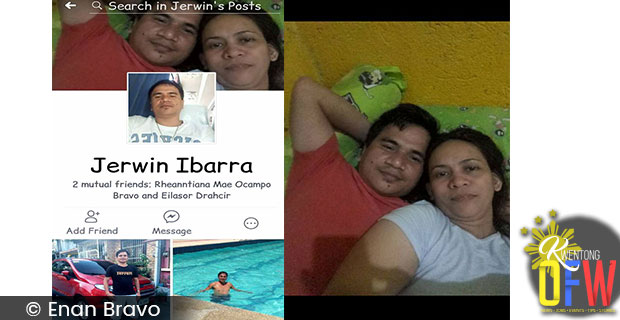 When the month of October came, he received a call from his wife.  After he expressed how worried he was about her for she did not communicate for quite some time, he asked if she can already send the money to pay their bills, yet, his wife did not answer for a few minutes and suddenly broke her silence admitting that she was already here in the Philippines by June and was living with another man.  When being asked why she had done such thing, Enan said, she just shouted at him and said, "Tao lng basta!"
Enan admitted that at that time, he thought she was joking but then she told him that it was the truth. She even asked him to check on the Facebook account of their daughter where he can find her photos with her new live-in partner.
He claimed, during that time he doesn't know what to feel as it seemed like all their dreams had disappeared and worse, his wife had thrown away their promise to one another being married for 21 years and had 4 children.
However, the depressed husband wished that the man named Jerwin Ibarra could have just avoided his wife since he knew that she was already married.  Unfortunately, the two had decided to be together and his wife had chosen the other man over him and their kids.
Sad though, Enan's family has been broken because of his wife's infidelity.
As of this writing, the post still earns various comments from enraged netizens who advised Enan to just focus on himself and their 4 children for they are his real treasures.  Some of them even advised him to file legal complaints against his wife and her live-in-partner while others said one day, they will also reap the fruits of the sin which they had committed.
Such a heart-breaking story!