Working in other countries would definitely mean that an OFW has to submit to the governing laws of the country working for.  Ignorance of the law cannot be an excuse, as not knowing the law, in fact, is the main reason some OFWs were put behind bars.  Such as this unfortunate experience of an OFW which was shared by a certain "Mahal Kita" on Facebook.
According to the post, an OFW who was about to return to the Philippines had been held in Saudi Arabia and was put into jail after her Facebook account had been duplicated were malicious, daring and bold pictures had been discovered on her IMO app and messenger.
Apparently, in Saudi Arabia, one's IMO and Facebook messenger can be traced and retrieved.  In the case of the Filipina, since having bold pictures were strictly prohibited, she was then to suffer inside the jail as the consequence of her 'careless' act.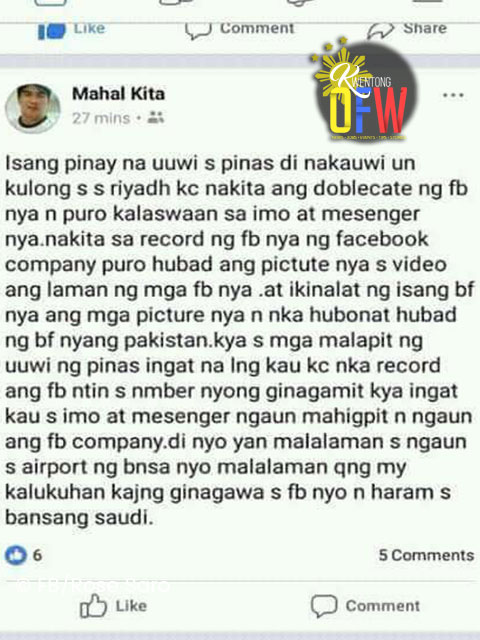 "Mahal Kita" had then reiterated his reminder to fellow kababayans to be mindful of their acts and to safeguard their IMO and Facebook accounts.  He said that the Saudi government can access the contents of the said applications so it's better to use them appropriately.
As of this writing, the identity of the said OFW had not yet revealed and the actual penalty given to her as her punishment was not yet established.  More so, it was so unfortunate that instead of being with her family, she had to stay inside the jail as a result of her misbehavior which for sure, she wasn't aware that she'll have to face that kind of punishment as the consequence of her ignorance.