A nanny is someone to whom parents entrust their children to believing they will be taken care of and be protected at all times.  It was never an easy responsibility and it takes someone patient, understanding and loving to be able to become a good nanny.  But for this one Filipina, it was not just simply protecting her wards, it also meant risking her own life for their safety.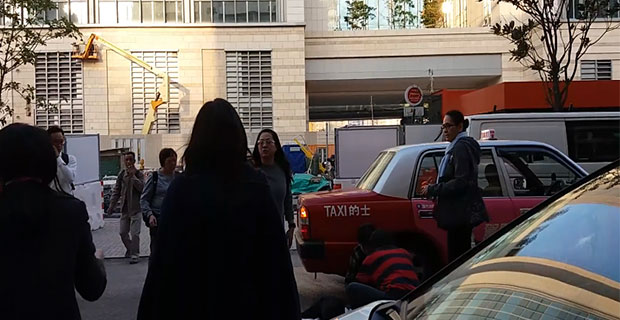 Few hours ago, a certain Facebook user named Sparkle Mae had shared videos of people who were seen panicking for having witnessed an accident involving a nanny. It was then learned that the nanny was a Filipina who just fetched the 3 children from their school.
Based on the comments section of the post, the incident happened in Nam Cheong in Hong Kong.  Apparently, a Filipina nanny was crossing the street with the children when an approaching taxi had accidentally hit her which caused her to fell on the floor. Her head was later on found to be bleeding due to an injury.
The three children were then immediately secured by some concerned citizens who witnessed the accident.  However, sadly, the nanny cannot stand as she was badly hurt.
See video below :
On the video, the Filipina was seen still lying down on the road while some people gather around her and tried to help her.
As of this writing, aside from being a Filipina, other details about the nanny are still unknown. But then, it was assumed that a medical team had already helped the Filipina and was already given immediate medical attention.
Second Video :
Meanwhile, some netizens were feeling pity over the Filipina nanny and said her employer could have acquired the services of 2 nannies to look after the 3 children instead of being alone.
Let's pray for our "kababayan" that she may be able to fight for her life and survive from the accident.