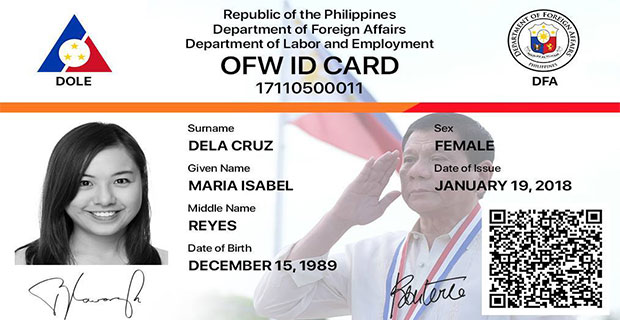 The iDOLE OFW ID Card, labeled as the 'best gift' of President Rodrigo Roa Duterte to millions of overseas Filipino workers (OFWs), is now available to returning OFWs or Balik-Manggagawa on its first phase of issuance.
Labor Secretary Silvestre Bello III said the limited issuance of the ID Card in the initial implementation of the Integrated Department of Labor and Employment (iDOLE) eServices is intended to further test and secure the features of the system.
"This is only the first phase of implementation and will cater first to our Balik-Manggagawa until the system is ready for all OFWs. We are doing this to secure the database and for further improvements in the system," Bello said.
Balik-Manggagawa, or those vacationing OFWs, are required to log-in to their BM Online accounts to apply for the ID, which they can use to avail of travel tax and terminal fee exemptions.
They can now log-in and create an account with the iDOLE.ph or the iDOLE One-Stop Online Facility/Portal and apply for the OFW ID by putting their latest and valid Overseas Employment Certificate (OEC) Number. The unique ID is equipped with decrypted QR code for security.
HOW TO APPLY : STEPS : How To Apply for OFW ID Card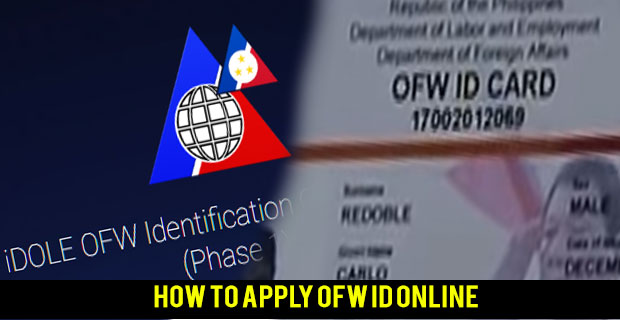 Bello reiterated that the iDOLE OFW ID Card is free, with its production funded by the Overseas Workers Welfare Administration (OWWA).
"This is free for our OFWs. We do not want our OFWs to shoulder the cost because this is a gift from the President to recognize their sacrifices and immense contribution to our economy," he said.
With the use of the ID, OFWs will no longer need to queue in transacting with agencies for their overseas employment as they can now access government services online during the further phases of the iDOLE eServices implementation.
The first phase of the system links DOLE with the Department of Foreign Affairs (DFA), Philippine Overseas Employment Administration (POEA), Overseas Workers Welfare Administration (OWWA), and the Bureau of Immigration (BI).
The iDOLE system will further interlink the databases of DOLE offices and agencies with other government agencies for a more reliable, updated and complete Labor Market Information System (LMIS) for employment facilitation purposes.