Foreign Secretary Alan Peter Cayetano sees more doors to open among Filipinos who will be given the opportunity to work in the Chinese mainland. The secretary hopes for the realization of the said breakthrough so that more Filipino workers will be deployed to China.  However, he is looking into having a secured agreement by the end of the first quarter of 2018 to assure that OFWs (Overseas Filipino Workers) will be given legal protection.
On December 1, Sec. Cayetano had been a guest during the "Belt and Road" Trade Fair at Chater Garden in China.  Though OFWs were treated good and fairly, he said that a work agreement between China will provide them with a legal protection and will make their work contract more desirable.
Apparently, China is eyeing on hiring Filipino workers in particular for possessing talents, professionalism, dedication to work and being hardworking.  In fact, Filipinos were among those considered the 'best' by foreign employers.  As such, they were prioritizing Filipino English teachers which even the foreign minister had discussed during previous talks.
Aside from the employment that the government looks into with its good relationship with China, the government also focuses on helping Filipinos live a better life through education so that they will be equipped with knowledge which they may use as their stepping stone to improve their life condition.
Sec. Cayetano added that in Beijing, China was providing programs for expats and workers but then, Filipino workers were not included because they don't have existing work contracts in the country.
"It's even their foreign minister who followed up and their Belt & Road initiative will be a very big idea that will affect the world and especially our region, and even the Chinese themselves have said that they not only need the cooperation, collaboration, but they will need the best talents from all over the world, and they recognize Filipino talent."
Meanwhile, considering the fact that many Filipinos will possibly be deployed to China, Cayetano claimed that the Philippines would need a balance to make sure that while we are providing manpower, we still have the best people staying in the country.  Sen. Cayetano added that as OFWs leave the country to earn for their families, keeping the best people here will help the country's economy to develop and later on decrease the number of departing OFWs who were separated from their families.
He then considered set-up in U.S. ideal where Filipino nurses can bring their spouses who can't work within a year which is far better than being separated from their families.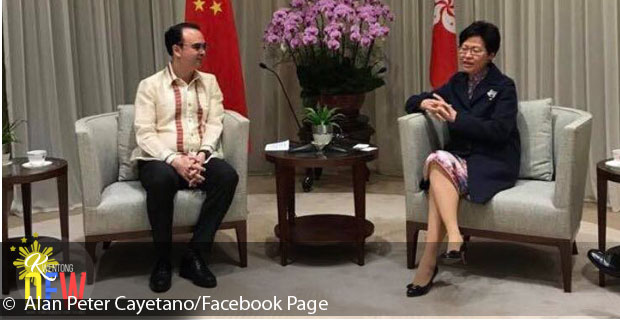 Sec. Cayetano also shared the successful meeting with Hong Kong Chief Executive Carrie Lam during a press briefing in Macau. Aside from the OEC issue which had been apparently lifted by Labor Secretary Silvestre Bello III on December 1, he added that they had tackled issues on human trafficking, slavery and illegal recruitment which both countries were looking into seriously and had considered such as a transnational crime affecting countries around the globe.
Both Hong Kong and China are working closely on identifying the culprits, the illegal recruiters and the people engaged in human trafficking. – via The Sun HK