An OFW shown in a Facebook video which had gone viral is now safe from the hands of an Iraqi houseboy who had beaten her. She was finally rescued and was immediately sent home to be reunited with her family in the Philippines.  Despite what she had gone through, she claimed she still wants to work as an OFW.
On Thursday,GMA News TV "Balitanghali" had reported the arrival of Alice Aguilan.  Her face is still swollen and the bruises are still visible.  When asked if she's still willing to work abroad, the OFW expressed her willingness claiming it's the only way to help her children since she's solely supporting them.
"Kasi kailangan ng mga anak ko ng suporta. Biyuda na ako, ako lang mag-isa inaasahan ng mga anak ko."
Apparently, on December 22, 2017, Alice was able to ask help when she showed via Facebook live an Iraqi houseboy who was beating her.
Prior to the incident, Alice cannot think of any instance when they had an argument.  She claimed she was totally shocked and the incident happened unexpectedly.
Scroll down for video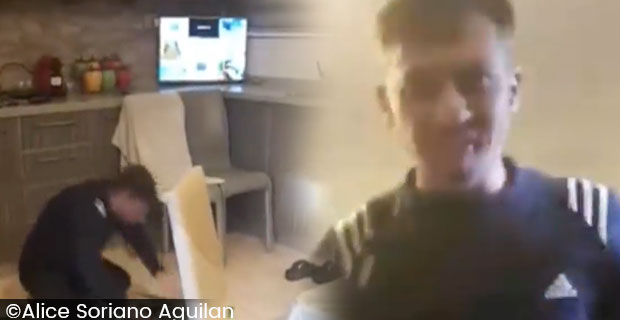 With the help of the Embassy of the Philippines, Alice was rescued and was immediately sent home. Alice said, after 6 years, it was the first time she went home to the Philippines and was able to see her children.
Alice divulged that she had been working as an undocumented OFW for 6 months after a Filipina "kababayan" had 'sold' her from Amman, Jordan going to Iraq. However, the Overseas Workers Welfare Administration assured Alice that she will still receive certain benefits.
Meanwhile, OWWA plans to provide Aguilan with trainings and seminars to prepare her as she goes back to work abroad, legally.
OWWA Deputy Administrator Brigido Dulay claimed it would be better for her to undergo trainings so she may be considered as a skilled worker.