First time OFWs in Riyadh are reminded by a concerned citizen named Ojie Reyes.
On his post on Facebook, Ojie mentioned that there is a syndicate operating in Batha, Riyadh executing this kind of modus operandi to victimized innocent people.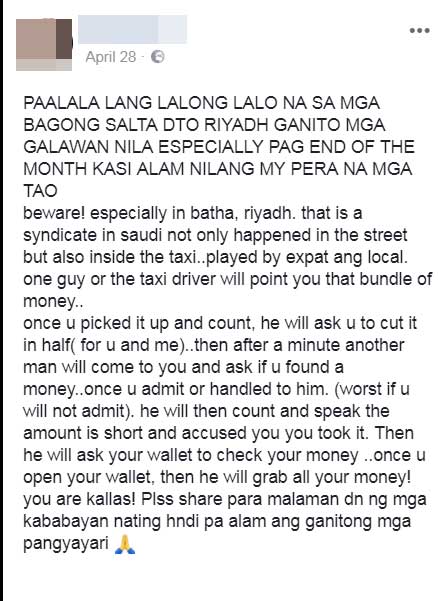 Apparently, one man or a taxi driver will point a bundle of money on the street to their prospect victim and would offer to divide the money equally among themselves.  After a few minutes, another man (an accomplice)  will ask if the victim found the money.  Once the victim admits getting the money, he would then ask for it and double checks if it is still complete.
Since the money was no longer complete as it had been equally divided between the man (member of the syndicate) and the victim, the accomplice will ask the victim to put out his wallet to see if the missing money is inside.  But once the victim puts out his wallet, the man will grab his money and would immediately escape.
Ojie claimed the modus operandi is being executed usually during end of the month because most people have their salaries by that time.
The said incident has been rampant so Ojie decided to remind those OFWs that are newbies in Riyadh so they may be more cautious.
He then asked that his post be shared so many may also be aware.
Facebook Post