The Philippines can expect more people traveling from Hong Kong to Manila.  This is possible after Hong Kong Airlines started to launch its daily flights to Manila on Friday evening as announced in a ceremony attended by C.K. Ng, the executive director of the Airport Authority of Hong Kong,  Henry Ma, managing director of Hong Kong Air Cargo Terminals Ltd., and Dennis Choy, the general manager for communication of the airlines.
According to Tang King Shing, Vice Chairman, this is the fourth route being launched by the airlines following the inauguration of services bound to Maldives, San Francisco, and Moscow.
"Manila represents an exciting new market for Hongkong Airlines."
Shing also noted the increase in travel between the Philippines and Hong Kong in 2017, with more than 900,000 visitors coming from Manila.  The said launching of daily flights aims to open doors to travel demands from the Philippines to their country.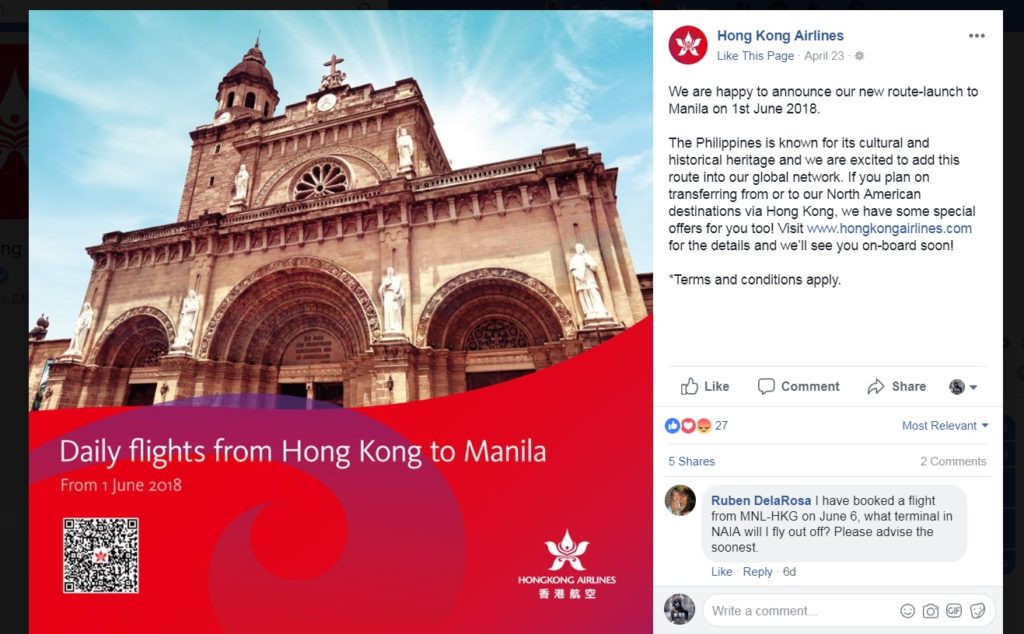 Consul Paulo Saret representing the Philippine Consulate General claimed with Hong Kong daily flights, the Philippines is hoping for more visitors from Hong Kong.
He also asked the airlines to help in the promotion Philippines as an ideal destination by people in Hong Kong.
In fact, Shing claimed he and his wife had spent their honeymoon in Manila.
OFWs working in there will also have a wider choice of airlines and could soon avail of their lower fares compared to other competitors.
Meanwhile, it was learned that the website of the Airlines does not indicate an online booking for flights to Manila yet as perhaps they are still in the process of updating their site