Gretchen Barretto felt totally happy when she saw a fellow Filipina who works as a staff during her recent vacation in Australia.
She also took a video of the Filipina, who was also very happy because she was not able to return to the Philippines for five long years.
"Always a joy to see our kababayans wherever we travel. Meet Merlinada from Las Piñas. She hasn't been home to the Philippines in 5 years," says the caption of the video.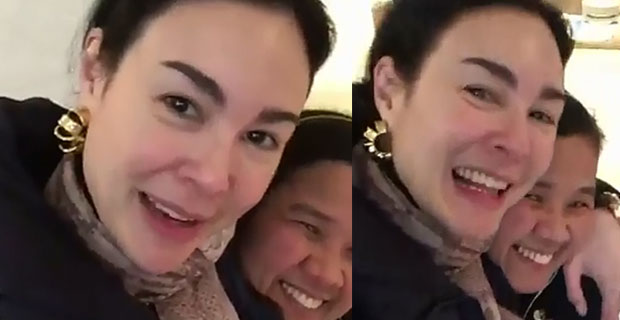 "It's so nice to see fellow Filipinos working here," she added.
"That is why when we see Filipina in another country, it really makes us tear-eyed," says the Barretto, with eyes really filled with tears.
Just recently, the socialite-actress got involved in a controversy online where she was seen laughing at a stranger's letter.
She was known for granting random wishes from strangers and posting these things on her Instagram account. Some of her good deeds include giving formula milk to supporting a patient who's under dialysis.
However, her act of generosity suddenly turned sour after a video became viral where she was seen laughing at someone else's letter asking for help. The video was first posted on the Instagram account of the actress but it was soon deleted.
The letter reads:
"My eldest po this January has been diagnosed with butas sapuso. Been sending my request for my brother who had two…duodenal (sic) mass and chest lymphoma and soon for chemo po and sana mabasa niyo po. Since it's a (sic) Mother's Day, and request kop o sana is Ensure milk for my mother-in-law…Lilia…na 73-years-old mag-salang po siya…"
But thethe letter sender said that everything is OK and she idolizes Barretto very much.
See clip below :