The lucky winner of Dhs1, 000,000 (14.5M in Peso ) goes to a Filipina who just dropped a single entry at the Al Ansari Exchange Summer Promo 2018.
According to the OFW, he tried to join different raffle promos for many years, in the hopes of getting the jackpot prize. She transacted three to four times just to have a couple of entries.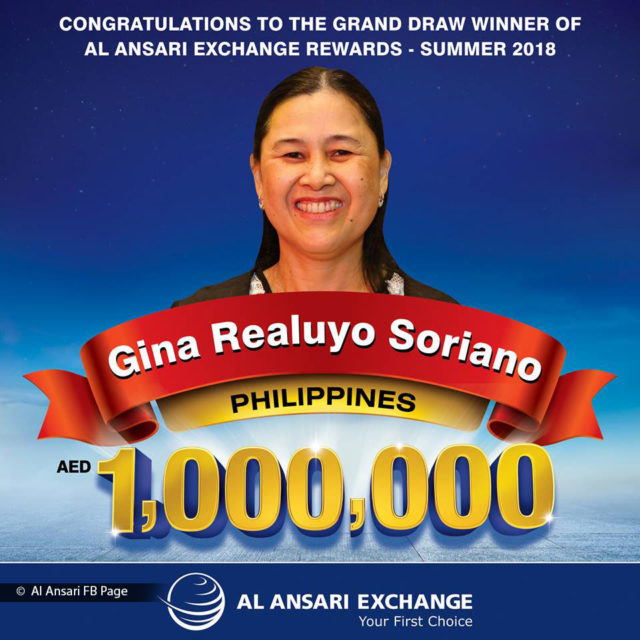 "This time, I only had one entry and I am lucky enough to win the promo. I didn't expect it. It is indeed my lucky day," says the Filipina who refused to be named.
As she was asked where she will use the money, the Filipina said that she is planning to start a business in her hometown and the remaining will be spent for the studies of her two children who are both in senior high school.
"I was nervous when my name was called. I was nervous for two to three days. I never thought that I will win especially because I only have one raffle entry," says the winner who was identified only as Soriano.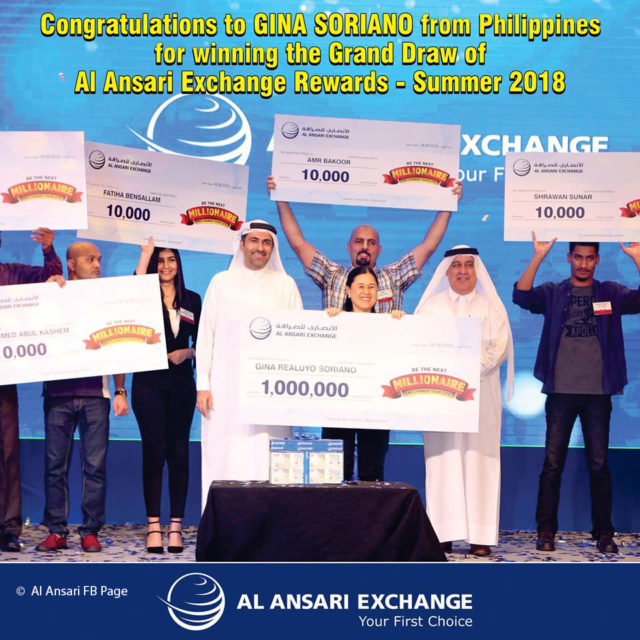 She also thanked Al Ansari for her win.
"Al Ansari, thank you so much. I will continue patronizing your service," says Soriano.
The Filipina, who works as a domestic helper, promised her employers that she will continue with her job despite her huge win.
Soriano, who hails from Albay, first went to UAE about 10 years ago. Ever since, she is working at the same Syrian employer, making it totally hard to leave them.
See awarding clip below
CONGRATULATIONS! Sa kamay muli ng isang OFW napunta ang tumataginting na Dhs 1,000,000 (₱14.5 million) na grand prize sa Al Ansari Exchange Summer Promo #TheFilipinoTimes

Posted by The Filipino Times on Tuesday, August 28, 2018