How hard is it to work abroad?
To some, their lives changed because they were able to provide the financial needs of their families in the Philippines. However, there is also the alarming incidence of abuse and maltreatment especially to Overseas Filipino Workers (OFW) working as a domestic helper in Middle East countries.
Just recently, a video started to circulate online which tackles the real situation of our kababayans abroad.
In the video, a man can be heard saying that no one can help the domestic helper return to the Philippines but her employers.
"Even if you die, no one can help you return to the Philippines," says the man in the video.
It was found out that the woman is having a hard time with her employer who is not feeding her well and the salary which was directly sent to the Philippines was not received by her family.
But then, the man insisted that no one can help the domestic helper, even the Philippine embassy or the President.
The man is very confident that the woman needs to get well with her employers because they have her visa and they are the only ones who have the power to send her back to the Philippines.
The said that the woman doesn't look like being neglected with food.
"Look at your body, you are so fat. Other domestic helpers are not really being fed," says the man.
But the woman insisted that she is only fed with noodles and she seldom eats rice.
The man also pointed out that the reason behind all of her complaints is the excessive use of mobile phone.
It was found out that the man in the video is an employee of the woman's recruitment agency.
What is your opinion on this? Share it in the comments section.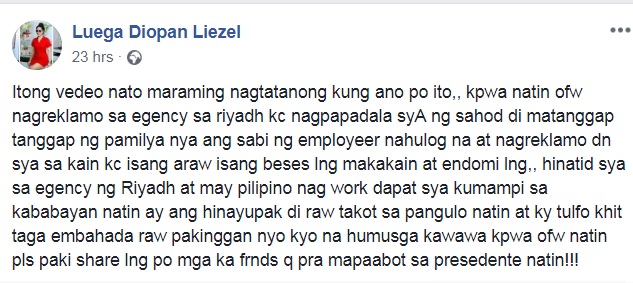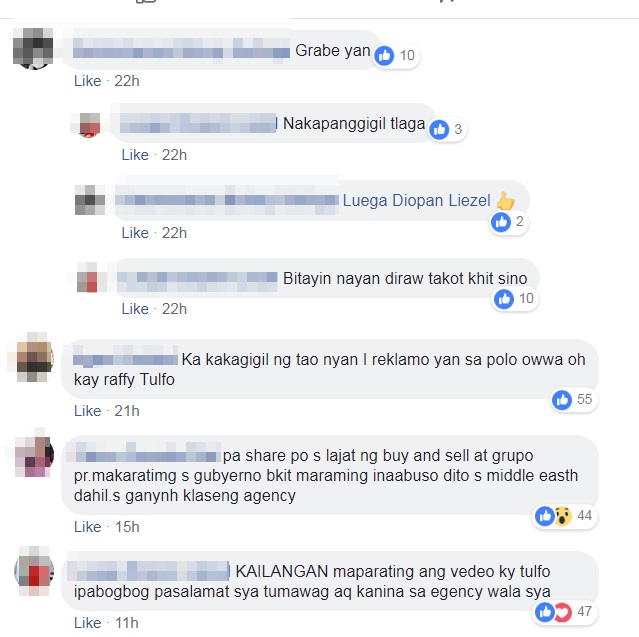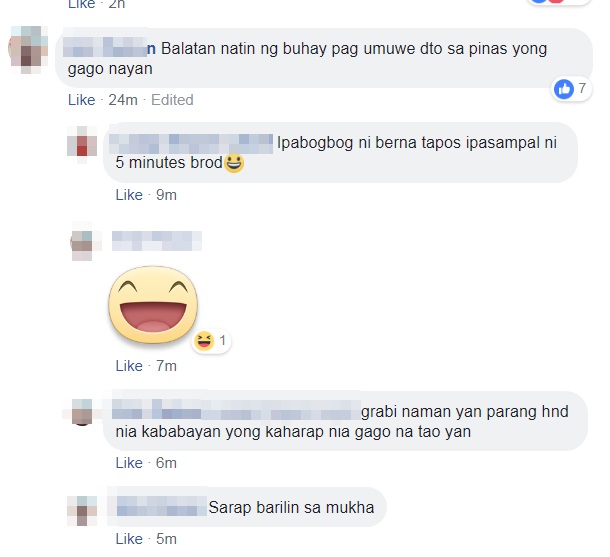 See clip below
Itong vedeo nato maraming nagtatanong kung ano po ito,, kpwa natin ofw nagreklamo sa egency sa riyadh kc nagpapadala syA ng sahod di matanggap tanggap ng pamilya nya ang sabi ng employeer nahulog na at nagreklamo dn sya sa kain kc isang araw isang beses lng makakain at endomi lng,, hinatid sya sa egency ng Riyadh at may pilipino nag work dapat sya kumampi sa kababayan natin ay ang hinayupak di raw takot sa pangulo natin at ky tulfo khit taga embahada raw pakinggan nyo kyo na humusga kawawa kpwa ofw natin pls paki share lng po mga ka frnds q pra mapaabot sa presedente natin!!!

Posted by Luega Diopan Liezel on Wednesday, August 29, 2018