The daughter of a Filipina domestic helper in Kuwait is asking for help because the employer of her mother abandoned her following an unfortunate accident that happened inside their house. She took to social media to ask for any help.
Amor S. Talleser was near the over when it exploded causing burns on her hands and parts of her face including the eyelashes and eyebrows. Her vision was also affected by the explosion.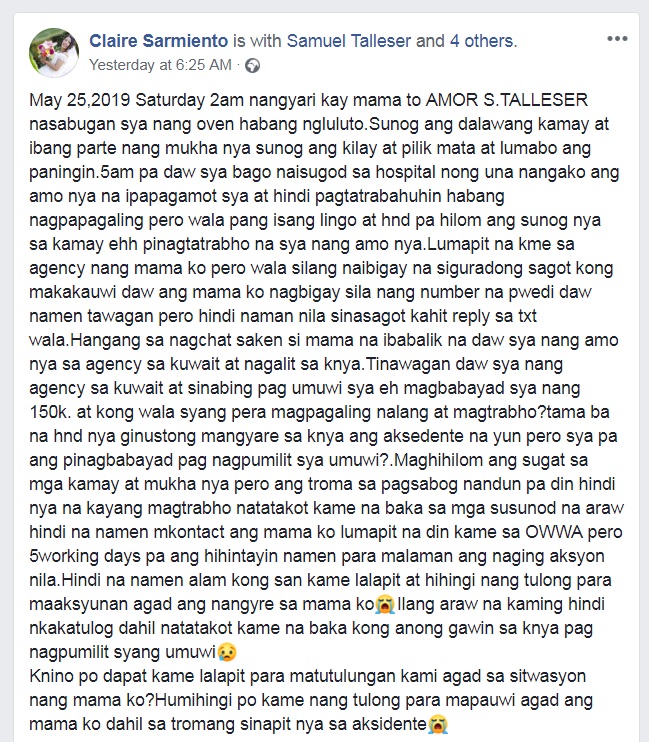 The incident happened at 2a.m. but she was brought to the hospital at around 5a.m. At first, her employer promised that they will support her medication and will allow her to rest until the burns won't hurt anymore.
However, it turns out that her employer couldn't wait for her to recover and required her to work within a week despite the wounds on her hands still unhealed.
The family of Talleser went to her agency in the Philippines but they refused to help her. They also went to OWWA but it still takes 5 days before they can act on the OFW's case.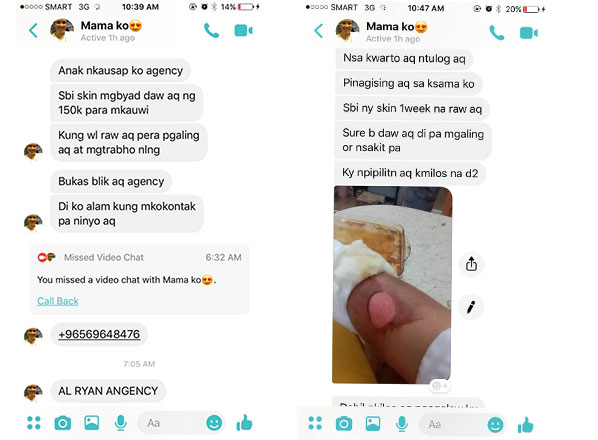 After a couple of time, Tallesser talked to her daughter saying that her employer will return her to the agency and she needs to pay PhP150,000. If she does not have money for payment, she will have to work for another employer to pay for the amount.
Claire Sarmiento, daughter of Talleser, thought that the burns and injury of her mother will soon heal but the trauma will remain for a long time.
Claire is very concerned about the welfare of her mother, considering that she is far from them and her employer might treat her badly if she persists in going home.
Claire is looking for help through social media, hoping that her Facebook post becomes viral and government agencies can help her mother as soon as possible before it gets too late.