A Filipina domestic helper was found lifeless in  Hong Kong Because of depression.
A lesbian Filipina domestic helper, 32-year-old, end her life inside her employer's flat in Yuen Long the last Feb.2. The OFW was identified through her Facebook account Jeck Albellar Reponte.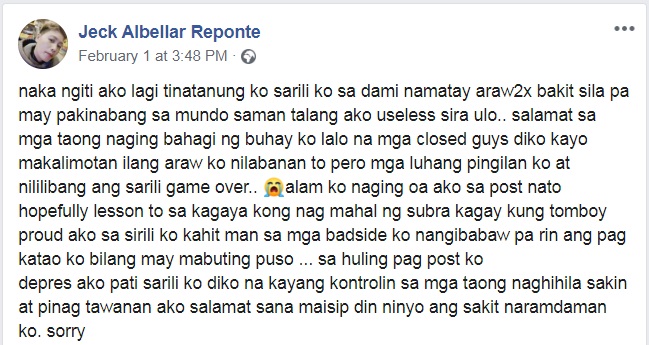 In a series of posts, the Filipina was obviously suffering from sadness and depression.
"Naka ngiti ako lagi tinatanung ko sarili ko sa daminamatay araw2x bakit sila pa may pakinabang sa mundo samantalang ako useless siraulo..salamat sa mga taong naging bahagi ng buhay ko lalo na mga closed guys diko kayo makalimotan ilang araw ko nilabanan to pero mga luhang pingilan ko at nililibang ang sarili game over," she said in a post.
"Alam ko naging oa akosa post nato hopefully lesson to sa kagaya kong nag mahal ng subra kagay kung tomboy proud ako sasirili ko kahit man sa mga bad side ko nangibabaw pa rin ang pagkatao ko bilang may mabuting puso … sa huling pag post ko. depres ako pati sarili ko diko na kayang kontrolin sa mga taong naghihila sakin at pinagtawanan ako salamat sana maisip din ninyo ang sakit naramdaman ko. Sorry," the last Facebook post of Jeck dated Feb 1, before she was found lifeless.
She also took a video of herself while crying with the caption "Tama pag papanggap di ako okay. Give up na ako. Last photos thank you 2020."
According to the local police, the victim was depressed after a recent breakup with her girlfriend. It was too late when her employer found her hanging inside her flat.
The employer of the Filipina immediately called the attention of the police who responded to the area. The Filipina was already lifeless and no note was left. Her passing was also ruled out without traces of foul play.
The cause of her passing is yet to be determined as the investigation is still ongoing. However, investigators received information stating that the OFW had been bothered by problems concerning her family.
Watch below
tama pag papanggap di ano okaygive up na ako… last photos thank you 2020

Posted by Jeck Albellar Reponte on Friday, January 31, 2020