The temporary ban of Filipino workers going to Hong Kong has hindered their return to their employers, thus endangering their jobs.
In the midst of the fears of the widespread coronavirus, Filipino workers going to Hong Kong were barred from leaving the Philippines. However, this could greatly affect their jobs which is why Foreign Affairs Secretary Teodoro Locisn Jr. asked Philippine President Rodrigo Duterte to temporarily lift the said ban.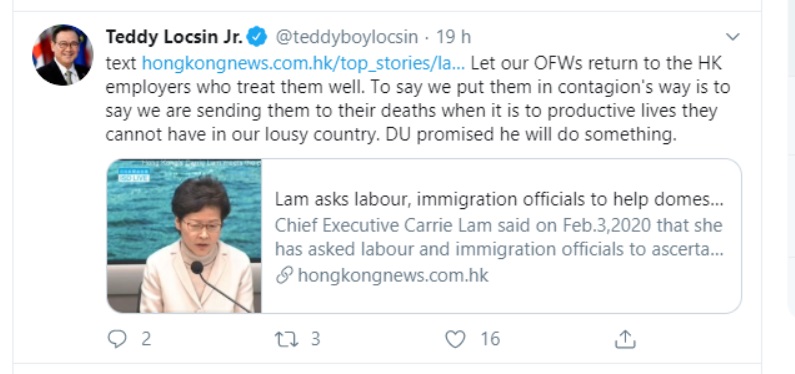 "Let our OFWs return to the HK employers who treat them well," says Locsin in Tweet he posted on Feb. 3.
According to the DFA Chief, President Duterte promised to do something regarding the temporary ban. Foreigners from China and the special administrative regions (SARs) are prevented to enter the Philippines but Filipinos and permanent visa holders will be given the chance to enter the country as long as they subject themselves in quarantine for 14 days.
If foreigners are barred from entering the country, Filipinos are prevented to leave the country especially if they are going to countries like Macau, China, and Hong Kong.
A lot of Filipinos fear this directive as they could face termination from their current jobs if they cannot return as soon as possible.
"To say we put them in contagion's way is to say we are sending them to their deaths when it is too productive lives they cannot have in our lousy country," says Locsin.
The post of Locsin is in response to the statement of Hong Kong Chief Executive Carrie Lam regarding Filipino domestic helpers who may not be able to return to their employers because of the ban.
"Now, there could be more governments who don't have enough understanding about our work here in fighting the infection. So to prevent that from happening, we have arranged to meet with all consul generals in Hong Kong," says Lam.