A new advisory released by the Philippine Overseas Labor Office (POLO) in Dubai stating about the $200 (Dh730) cash assistance for those Filipino workers affected by the COVID-19 pandemic, including the those who are under the 'no work no pay' scheme. This should be good news to all OFWs affected by the COVID-19 but this program has been suspended temporarily.
According to the advisory of POLO-Dubai, the suspension of the cash assistance is due to the availability of funds. As of April 20, the POLO-Abu Dhabi is yet to issue any suspension for the said cash aid for qualified Filipino workers.
The statement goes like this:
"The public is hereby informed that pursuant to the directive of the Department of Labor and Employment, the Philippine Overseas Labor Office Dubai and Northern Emirates will temporarily suspend acceptance of applications for the DOLE one-time financial assistance for displaced OFWs due to COVID-19 "DOLE-AKAP for OFWs" pending evaluation of applications received and subject to availability of funds."
Submission of applications will be temporarily suspended effective April 21, 2020.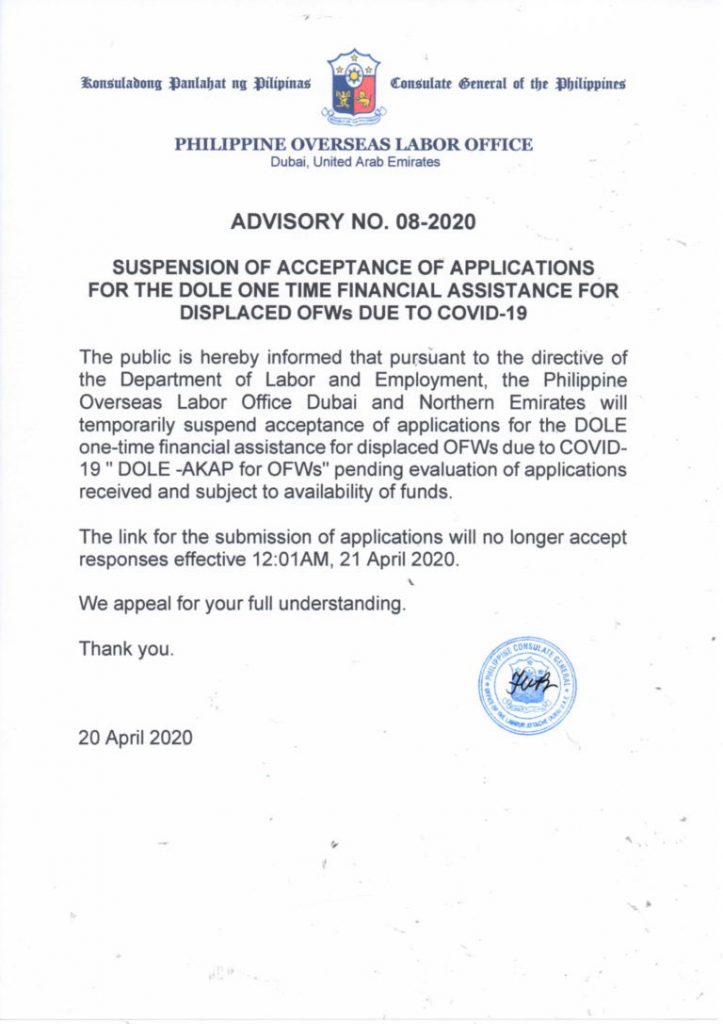 It can be recalled that this program of DOLE has received backlash as "no work no pay' workers under this scheme were not included. Later, POLO Dubai changed this and announced that workers under the said scheme are included in the cash assistance.