After the viral news of Japan opens doors to Filipino domestic workers and 66K PHP Monthly Salary for Housekeepers Job In Japan that will be next year, some Job offers is circulating online on where or how to apply in Japan.
Hans Leo J. Cacdac post warning and awareness regarding this Job offer that is not accredited not licence in POEA.
Let us beware of illegal recruiters with job offers in Japan. They do not licensed and registered with the POEA their employers and job orders.

Please don't get attracted on illegal recruiter saying that millions were needed workers in Japan .They are neither POEA -licensed nor POEA – registered.

Please also don't believe of some offers for caregiver work. The POEA only, by PJEPA / JPEPA (USA / Japan Economic Partnership Agreement), can make recruitment for CAREGIVERS, and not the private recruiter.

Be smart, do not be fooled!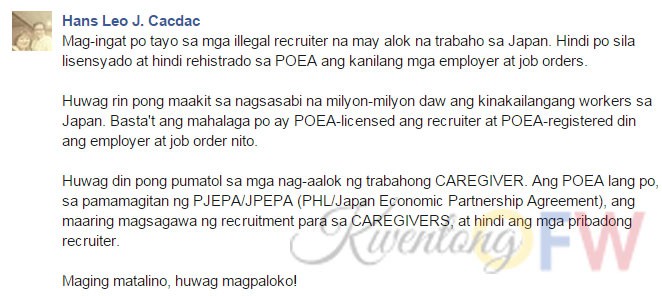 Always check of the said recruitment Agency is listed on POEA.GOV.PH