This was the reaction by the migrant rights group Migrante-Middle East (M-ME) when it confirmed a report that four (4) distressed and irregular overseas Filipino workers (OFWs), all women, were thrown out from the PH consulate building after they've sought assistance from the Philippine Overseas Labor office (POLO) in Jeddah, Saudi Arabia.
John Leonard Monterona, regional coordinator of M-ME, said he was in contact yesterday with the 4 distressed OFWs as one of them sought assistance from the Hong Kong-based Mission for Filipino Migrant Workers (MFMW) through a family friend who is also based in Hong Kong.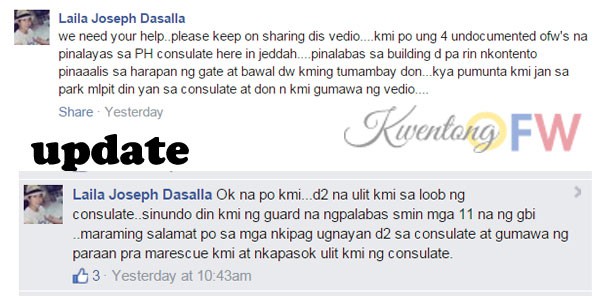 Monterona said OFWs Fe Ogahayon Hojilla, Laila Gasatan Joseph, Mary Lou Madayag Manrubang, and Josephine Navarete Ablao, all of legal age, went to the PH consulate to seek assistance being run away from their respective employers allegedly due to physical and verbal abuse and non-payment of wages.
(Attached photo and video link of the 4 OFWs outside the PH consulate building narrating their deplorable situation after they were dragged and thrown out)
"I have talked to Labor attache Jainal Rasul, Jr. via a phone call yesterday afternoon about the 4 distressed OFWs as OFWs Fe and Laila were told that they can't stay at the PH consulate as they have been an absconder for months. As a matter of policy, I was told by Labatt Rasul, long-time absconders and especially those who have been previously at the PH consulate shelter then opted to went out to find part-time job only to be back at the shelter can't be admitted for security reasons," Monterona said.
Monterona added, "I have argued against the 'non-admission of long-time absconder' policy. It defeats the very purpose of having a 'Bahay Kalinga', manage and under the supervision of the PH post and the POLO-OWWA overseas offices – that is providing temporary shelter to distressed OFWs especially women."
"In fairness to Labatt Rasul, he assured me that he will be endorsing the 4 to the deportation center in Shumeisy, Jeddah soonest while negotiation with their respective employers and recruitment agencies are ongoing for their repatriation formalities. But I was surprised that the 4 were forced and dragged out of the PH consulate by its security guard around 6:00 p.m. last night. I immediately called the 4 and were sad to know that they were at the nearby park while awaiting the outcome of the negotiation with PH consulate and labor officials to let them stay at the PH consulate building," Monterona added.
At about 11:00 p.m. the 4 distressed OFWs were asked by the security guard to go inside the PH consulate, after 5 hours waiting under a rainy and cold weather as the western region of Saudi Arabia has been under torrential rains since last week.
"We call on the Department of Labor and Employment (DoLE) chief Sec. Rosalinda Baldoz to provide guidance to all labor attaches in Saudi Arabia and in other POLO-OWWA offices to strike down its 'non-admission of long-time absconder' policy in all Filipino Workers Resource Centers or known as 'Bahay Kalinga'," Monterona suggested.
"Tagos sa embahada, consulado, at POLO offices sa labas ng bansa ang manhid, walang puso, at di makataong ehemplo ng BS Aquino III," Monterona claimed.
Reference:
John Leonard Monterona
Coordinator, Migrante Middle East II
CP# 00966 53 908 1974
Watch the Viral Video Below
we need your help..please keep on sharing dis vedio….kmi po ung 4 undocumented ofw's na pinalayas sa PH consulate here in jeddah….pinalabas sa building d pa rin nkontento pinaaalis sa harapan ng gate at bawal dw kming tumambay don…kya pumunta kmi jan sa park mlpit din yan sa consulate at don n kmi gumawa ng vedio….

Posted by Laila Joseph Dasalla on Monday, November 23, 2015