The viral photo of and OFW in Saudi  shared 65,000 times on Facebook two days after it was posted online.
The man behind the said photo is Mensias Hernandez' 58-year old La Union native worked as a latero (car tinsmith) in Ha'il, Saudi Arabia.
"Wala naman po akong kasalanan, basta na lang po nanuntok na lang siya nang walang tigil hanggang sa babagsak po ako, nang makaiwas na po ako pumunta po ako sa kababayan na maaring tumulong sa akin," Hernandez said.
Two weeks before the incident, their employer also beat up another Filipino, Joy del Monte, who manages the car workshop.
"Kasi 'yong amo naming pulis din dito sa Ha'il, malaking pamilya sir, walang nagtatangkang manghimasok, lumaban sa kanya," said del Monte.
At the police station, Hernandez filed a case against his employer who was jailed for one day.
With the help of Riyadh-based advocacy group Patnubay and other Filipino volunteers in Ha'il, Hernandez and del Monte were also able to file a case against their employer before the Saudi labor office.
Ten of their Filipino colleagues at three other workshops owned by their employer joined the two and no longer want to work there.
Patnubay made sure that an agreement is made for the settlement of the workers' wages, release of their passports with exit visas, and plane tickets.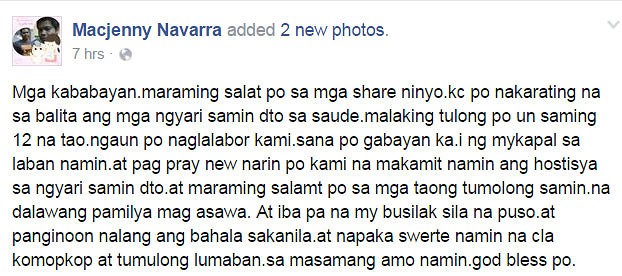 The agreement was signed by the workers, the labor office and the employer