A stern warning goes to all OFW's going back to Dubai, not to sneak Balut (a favourite Filipino delicacy) because it will only be confiscated during inspection.
United Arab Emirates sees that the unauthorized transport of these eggs are illegal and Filipinos should not sneak it to their luggage, said the Dubai's Philippine Consulate-General.
An advisory was issued by the Philippine Consulate last Tuesday following the number of reports received by them with regards to the confiscation of a huge number of Philippine duck eggs during their entry to Dubai. The eggs served as a "pasalubong" or gift to their fellowmen working in UAE.
The advisory states that any commercial or non-commercial entry of balut in Dubai, especially those without actual health and customs certificates shall be confiscated by the Customs authorities. The said confiscation will result to further delays in the immigration clearance of any bearer.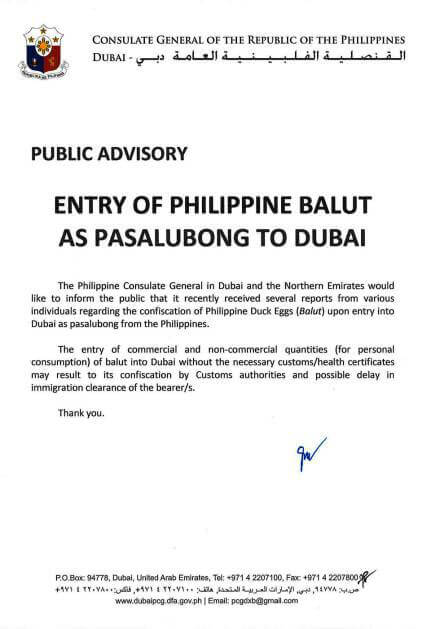 Quarantine Act:
According to the Veterinary Quarantine Act No 6 of 1979, the shipment of table eggs without complying import conditions shall be reshipped, confiscated or be destroyed.
Upon the export of the eggs, they should be free from bird flu and salmonella. It should also be fresh and good for human consumption. The eggs should also be placed in properly-made boxes and not in the personal luggage.
What is "Balut"?
It is basically a 16-21 days old egg which is a favourite street-food in the Philippines and other South-East Asian countries. The developing embryo of the bird (duck or chicken) is then boiled and eaten directly from its shell.
Source GulfNews