A video of an episode of "Kilos Pronto" posted by Bitag Official via Youtube on August 15, 2017, has enraged viewers when they learned that an OFW who worked as a domestic helper in Riyadh Saudi, Arabia went home to the country just wearing her undies.
Kilos Pronto is hosted by Tulfo brothers, Ben and Erwin joined by Alex Santos.
According to the video, Reyma Poquiz arrived recently at the Ninoy Aquino International Airport just wearing her bra and panty because the sister of her female employer required her to remove her clothes before she left.
Unfortunately, the OFW had a traumatic experience abroad when she suffered in the hands of her ruthless employers.  Reyma narrated that she was confined in a comfort room and was denied to being fed.  She was only able to survive by means of drinking water from the toilet bowl.
Reyma said that she started to be unjustly treated last August 8, when she asked from her female employer as to when will her salary for 3 months be given to her.  Instead of answering her question, she was then locked in the comfort room.
The OFW also informed the show that her employer got the money which she saved amounting to          P 36,800 pesos including her jewelries and other goods which she was about to bring home to her family in the Philippines.
Last August 9, she received a statement from the Philippine Embassy in Riyadh advising her to just  wait until the time that she will be rescued.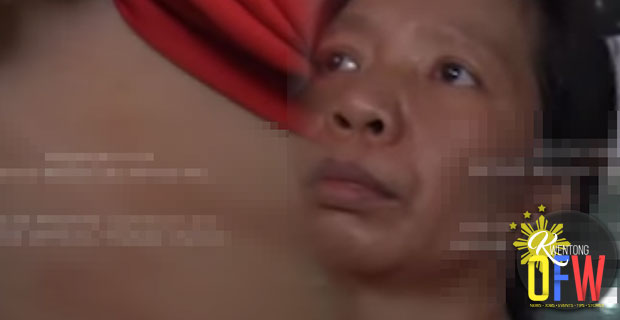 Seeing that there were no immediate actions on the part of the Embassy yet, her husband went to her Philippine Agency, Ana International Employment Agency on August 12 to inform them of Reyma's situation and asked for help.  Unfortunately, help was still not extended to her.
READ ALSO : This Husband of An OFW Asking Help From President Rodrigo Duterte
Pissed off, of what seemed to be negligence on the part of the Philippine Embassy and the agency, Ben Tulfo called Sec. Silvestre Bello III of the Department of Labor and Employment and asked for a tangible solution of Reyma's case. The secretary then said he will look closely on the case and will require the agency to pay for all the damages that Reyma has incurred for working abroad with the employer that the agency had contracted for her.
Finally, towards the end of the show, Reyma Poquiz was seen to be smiling which may be perceived that she is now quite sure that for whatever difficulties she had in the hands of her ruthless employers, in the end, she will be vindicated.
Watch video below