It's very difficult to work abroad where an OFW will be away from the family.  Hence, it is even much more difficult to be alone when they become sick, and the most needed help seemed nowhere to be found.
The OFW Kalingawan Facebook Page has recently posted a call to help an OFW working in Kuwait named Maricel Antioquia,  On the post were several pictures of Maricel  and a video from her husband, Celso Antioquia, who's asking President Rodrigo Duterte to help his wife be able to  go home to the Philippines.
According to the post, Maricel's family is from Lapu- Lapu, Cebu City. It's been 10 years since her family last saw her, from the time she left the country in 2007.
The last news that they received about Maricel was that she's staying in the Philippine Embassy in Kuwait from the moment she was diagnosed of having diabetes.  Because of her medical condition, she can't work anymore and only depends on insulin intake to make her feel better.
The family was begging for help from any government agencies who can possibly help them such as DOLE (Department of Labor and Employment), DFA (Department of Foreign Affairs), OWWA (Overseas Workers Welfare Administration) or POEA (Philippine Overseas Employment Administration).  They wanted Maricel to be home so they would be able to personally take care of her.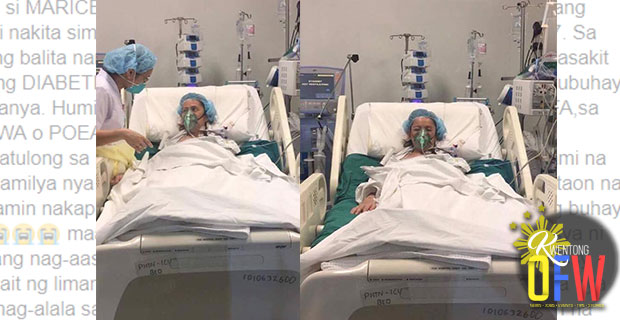 They also expressed how worried they were upon learning that she was under the custody of the Philippine Embassy for 5 months already, thinking nobody was attending to her medical needs.
Maricel Antioquia's family pleads to President Rodrigo Duterte whom they know will be the only person who can help them during their family's most difficult time.
May this OFW find comfort and help the soonest!
Scroll Down for video :