An OFW is currently battling for her life after being hit by a van along a busy road in Hong Kong last November 25, Saturday afternoon. Upon learning what happened, her husband and son took their flight last Wednesday, November 29, with high hopes that they will still see the OFW alive.
According to Lucy Romorosa, a fellow OFW in Hong Kong, Geraldine Betasola was rushed to the hospital while unconscious because of incurring severe injuries after being hit by a van.  She is currently at the Intensive Care Unit of Prince of Wales Hospital under critical condition.
On November 29, Ricardo Betasola, Geraldine's husband and their 16-year-old son, Kyle had already flew from Bohol to Hong Kong to see wife and mother, Geraldine alive.
In a phone interview with Mayor Josephine Socorro Jumamoy from Inabanga, Bohol, they had provided support to Ricardo and Kyle for their immediate departure.
Apparently, it was the first time for the father and son to travel abroad so they still need to apply for passport and other necessary documents.  However, with the aid of the local government unit (LGU) of Inabanga, the Department of Foreign Affairs (DFA) and the Department of Social Welfare and Development (DSWD), they were provided with everything that they need until they were able to secure their travel tickets and had made their departure possible on November 29.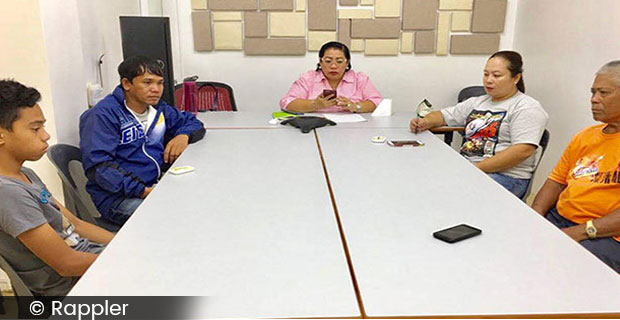 "Coming from a remote barangay, they don't know what to do, or how to obtain a passport and buy a ticket," shared the mayor. "I assigned staff to assist Ricardo and his son so they could expedite all the requirements and finally fly to Hong Kong on Wednesday," Mayor Jumamoy said.
Mayor Jumamoy also hopes it's not yet late and Geraldine would still be alive with her husband and son's arrival,
Meanwhile, according to Rappler, Geraldine's sister is also coming to Hong Kong within this week.
The Philippine Consulate had also been notified regarding Geraldine's condition.
Geraldine's employer is also helping her out with her hospital treatment.
Everyone is hoping for Geraldine's recovery who is considered still young at the age of 36.
Our prayers are with you, "kabayan".