"No more terminal fees" – Labor Secretary Silvestre Bello III strictly advised airlines to stop the collection of terminal fees as well as travel tax in the tickets of all Overseas Filipino Workers.
Civil Aviation Authority Director General Jim Sydiongco confirmed that he received a letter coming from Bello regarding the exemption of OFWs from terminal fees and travel tax, under the Migrant Workers and Overseas Filipino Act of 1995.
According to Bello, he heard that there are still airlines who include travel tax and terminal fees in the tickets issued to OFWs. These fees are refundable, yet, most OFWs fail to get it because of their lack of awareness or too much hassle.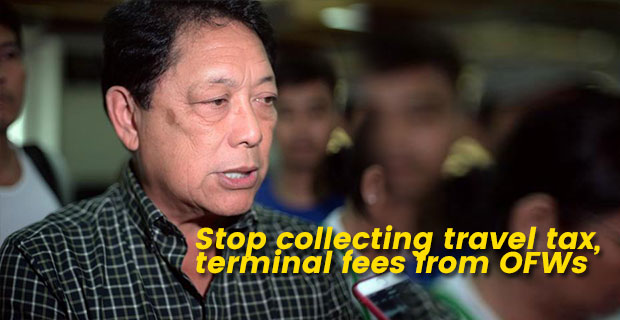 Bello also added that those not refunded travel tax and terminal fees should be given to the Overseas Workers Welfare Administration (OWWA), an organization that caters the needs of OFWs all across the world.
In line with the said regulation, CAAP and Manila International Airport Authority are subject to cooperate immediately and implement the said law as soon as possible.
The following airlines also received the letter from Bello:
Air Asia
Air Asia Zest
Air China
Air Niugini
All Nippon Airways
Aiana Airline
Cathay Pacific
Cebu Pacific Air
China Airline
China Eastern Airline
China Southern Airlines
Delta Air
DragonAir
Emirates Airlines
Ethiopian Airline
Etihad
Eva Air
Gulf Air
Japan Airlines
Jeju Air
Jet Star Asia
Jin Air
KLM Royal Duth Airlines
Kuwait Airlines
Malaysian Airlines
Mandarine Airlines
Oman Air
PAL Express
Philippine Airlines
Qantas Airlines Qatar Airways
Royal Brunei
Saudia Airlines
Skyjet
Singapore Airlines
Silk Air
Thai Airways
Tiger Air
Tiger Airways
Turkish Airlines
United Airlines
Xiamen Airlines