A news about a Filipina domestic helper who was cleaning high windows from employer's residence had circulated on social media and had previously gone viral. However, little did we know that after the photos had become widely spread, the employer forcely terminated her contract.
In lieu of the termination, 37-year-old helper surnamed Sta. Cruz is now seeking her 13th-month pay from her employer for allegedly terminating the contract before it should have officially ended and also for the remaining portion of her contract on August 31.
Apparently, the employer had violated Hong Kong government's policy and guidelines which stated that employers should not engage their helpers into cleaning their windows particularly if the condition is unsafe.  It was noted that Sta. Cruz was asked to clean the windows just three days after the disastrous and strong typhoon "Hato" had badly hit Hong Kong. But though typhoon signal has been lowered it was noted that the weather had remained unfavorable during that time.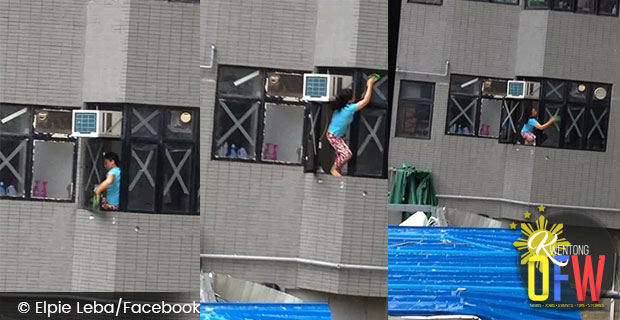 Mission Migrant Workers representative Edwina Antonio then claimed that after the Labor Department had seen the pictures of the helper, they immediately looked into the matter and had accepted her claim.
"The officer who took the complaint did not say anything when he said the claim was for M's salary for the remaining period in her contract," she said.
Aside from the 13th-month pay, the Pinay was also seeking for reimbursement of airfare from purchasing her plane ticket in July of this year after her employer forced her to take an annual leave because they left for a vacation in America.
During a previous interview with THE SUN, Sta. Cruz narrated that she questioned her employer about the prohibition on window cleaning and her employers allegedly said that since their contract has taken place earlier, they were still covered by the previous policy.  She also said that they signed the old green-colored contract in August, last year but started working for her employer by October 15.
It was starting January of this year when the new blue contracts were issued after Labor Attache Jalilo Dela Torre decided to require employers of Filipino domestic workers to sign a waiver to ensure that they won't require their helpers to clean windows from outside more so if it will risk lives.
However, there was a certain provision that stipulates the following conditions to wit:
"when an employer requires the helper to clean the outside of any window which is not located on the ground level or adjacent to a balcony (on which it must be reasonably safe for the helper to work) or common corridor, this must be performed under the following conditions:
(i) the window being cleaned is fitted with a grille which is locked or secured in a manner that prevents the grille from being opened; and
(ii) no part of the helper's body extends beyond the window ledge except the arms."
The step has been taken immediately after a Pinay helper named Rinalyn Dulluog fell from her employer's flat in a high-rise apartment in Lohas Park last August 9, 2016, while cleaning the windows.
Meanwhile, the Sta. Cruz's employees have been included in the blacklist by the Philippine Overseas Labor Office (POLO) for its employment contract violation.
On the other hand, Sta. Cruz hopes that the Immigration Department will still give her the chance to still accept a new work contract even after her claims from the previous employer had been settled.
Last August 29, Sta. Cruz received her unpaid salaries and an air ticket.
She was also being assisted for claims on subsistence allowance from her Philippine insurers as mandated by law where she could claim $100 every month while the case is ongoing.