Filipinos working in foreign lands sacrifice so much just to provide for the needs of their families in the Philippines. Sometimes, they even place their lives in line just to earn money. Unfortunately, not all families who were left in the Philippines, realize these things and they even have guts to hurt those who loved them most. Same story goes to this man who opted to hurt her OFW wife who is working really hard for their family.
A Facebook user Gha Aljau Sawan Lou posted in her account images of an alleged husband of an OFW.
According to her, the wife regularly sends money to her husband but he just spends it on his mistress.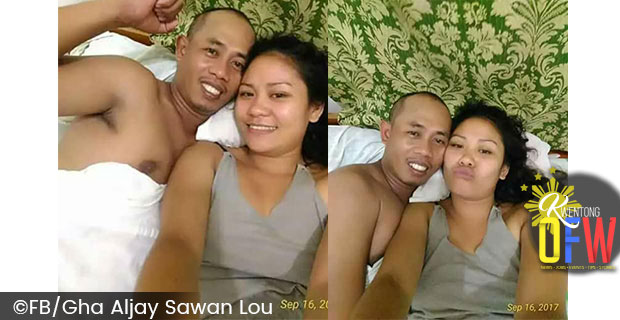 "Asawa sa abroad nag papadala ng pera sa asawa sa pinas ang ginawa sa pera ginagastos sa kabit," Lou said.
Lou also added that the wife of the man in the picture is suffering so much abroad.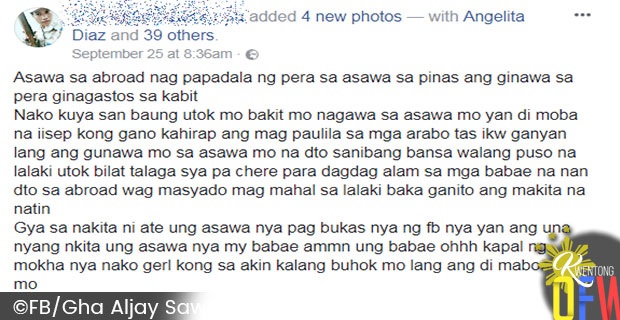 "Nako kuya san baung utok mo bakit mo nagawa sa asawa mo yan di moba na iisep kong gano kahirap ang mag paulila sa mga arabo tas ikw ganyan lang ang gunawa mo sa asawa mo na dto sanibang bansa walang puso na lalaki utok bilat talaga sya pa chere para dagdag alam sa mga babae na nan dto sa abroad wag masyado mag mahal sa lalaki baka ganito ang makita na natin," Lou said.
Adding to the pain and suffering of the wife is to see her husband with somebody else while she is eagerly trying to earn money for their family abroad.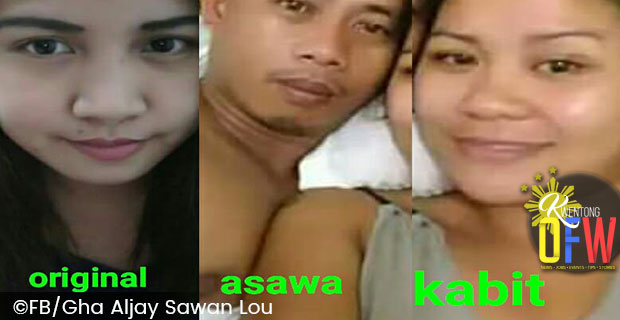 "Gya sa nakita ni ate ung asawa nya pag bukas nya ng fb nya yan ang una nyang nkita ung asawa nya my babae ammn ung babae ohhh kapal ng mokha nya nako gerl kong sa akin kalang buhok mo lang ang di mabonot mo," Lou further said.
The Facebook post reached thousands of netizens and they were all disgusted with the husband.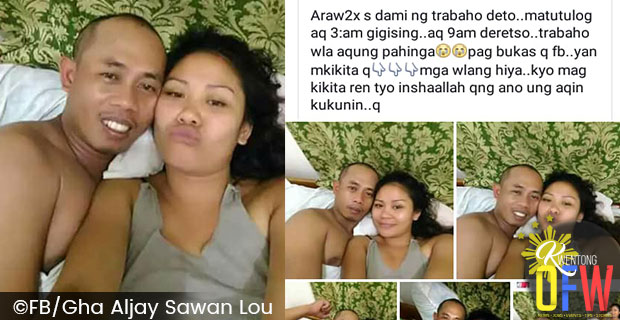 "Wag pdalhan ng pera..khit anong drama gawen nea,,wag mo g bgyn..magsave ka ng pera mo..pra xau yn nd pra sa babae nea," said Facebook user Dulalia Johara.
"Kapal ng face ng girl oh…felling wife hot kahoy kalang..tandaan mo girl ang kabit ai hnd mging asawa kundi tikim2 lng yan xau kz makati ka….wla vang napatol xau na wlng asawa oh bka nmn pumatol ka kz alam mong nsa abroad ang asawa hahaha..isip2 girl at nahiya nmn ng kunti….kw nmn lalaki kpl ng mukha mo kz d kna naawa sa asawa mo..kagigil proud pa ang mga ulaga," said another angry netizen, Angie Camacho.
"huwag mo tanggapin at huwag na bigyan ng pera ipunin mo na pera mo huwag na magtiwala asawa mo yang picture save mo pakulong mo cla," advise of Beth Balmilero.
What will you do if you are in the same situation?