What OFWs have in common as they leave the country is the hope of being able to provide financially to their families.  However, though they have the same hope, their fate varies from one another.
Mercedita Villosido Castillano who hailed from North Cotabato had left in 2009 to work in Hong Kong as a domestic helper to support her two children.  She had successfully finished two contracts from different employers which made it possible for her to remit regularly to her children and has even redeemed the land which she pawned to fund her placement and processing fees.
But her last employment did not turn out well as she was maltreated by the employer so she asked that she be released.  Unfortunately, the day when she was allowed to leave, the female employer had torn her passport into pieces.
She then sought the help of the Philippine Embassy in Hong Kong for her exit pass. Help was accorded to her but then, instead of spending the financial assistance given for her pass, she remitted the money for her children's needs, one of them was a special child.  Left with no option, she decided to continue working because of experiencing financial difficulty.
But when Hong Kong government had traced her as among those as illegal migrants, she was placed under correctional facility where she started to feel so much depression. On May 17, she was sent to Queen's Mary Hospital for a medical check-up and was diagnosed to have Stage 3 ovarian cancer.
Fellow kababayans had been so good to her as they helped her financially to support her medication.  Little did they know that Mercedita wasn't really using the money for her medical needs but we're sending the money to her children in the Philippines.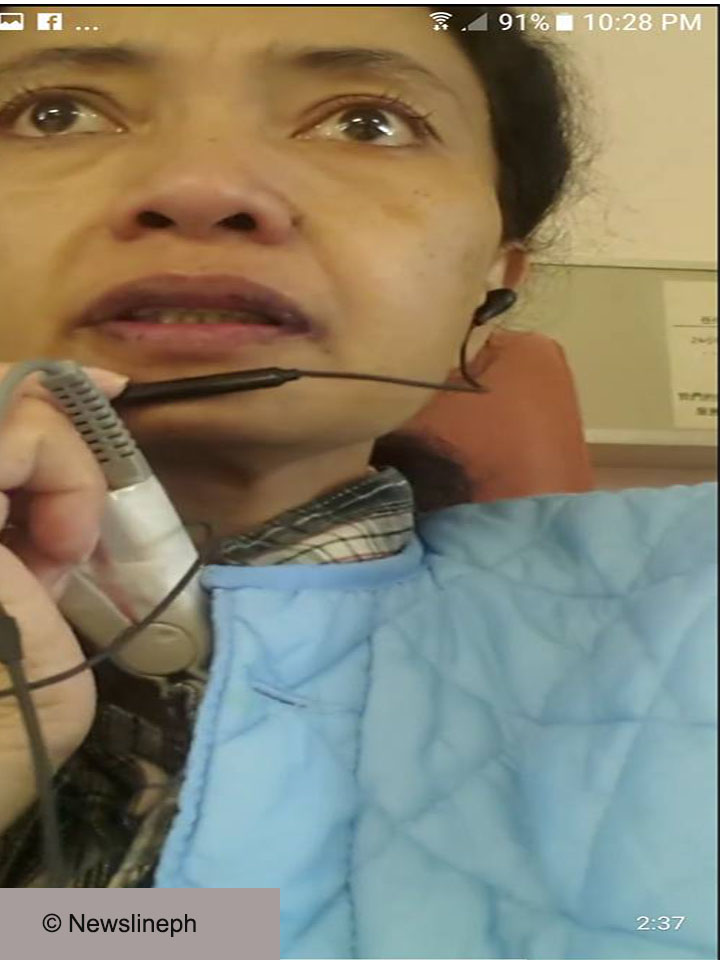 As days went by, Mercedita's health had deteriorated as a result of her ovarian cancer. On July 7, she sent a video message addressed to Philippine President Rodrigo Duterte through Duterte Die Hard Supporters OFW group in Hong Kong, pleading that she be assisted to go home to the Philippines to spend her remaining days with her beloved children. The Office of the President immediately adhered to her request and instructed the Philippine Embassy for the OFWs repatriation. However, it took some time before the final flight of Mercedita has been arranged at the hospital and the embassy needs to prepare documentation and needed equipment to ensure her safe travel.
Days after, finally on July 26, Mercedita's family has been informed of her coming on July 28 at 7:00 in the evening in Davao City.  Her niece Grace and husband Albert had prepared to meet her at the airport.
But at 10:00 o'clock in the morning of July 28, a shocking news from a call of Overseas Workers Welfare Administration reached her family advising them of Mercedita's passing that day while they were preparing her for the scheduled flight in the afternoon. That became a very heart-breaking news for the family.
On August 10, Mercedita's remains had been claimed by the family at the cargo area of Davao International Airport.
OWWA had provided Welfare Assistance Program amounting to P20,000 to the bereaved family.  They can also claim burial benefit from SSS amounting to P20,000.  If only Mercedita was able to complete the minimum number of contributions that should be remitted to SSS, she could have been entitled to more privileges as a cancer patient.  Sad though, her contributions fell short of what was required by the government agency.
Meanwhile, the Office of the President also extended help by shouldering the local transportation expenses of Mercedita and handling costs to be able to be brought home.
Pained to see Mercedita inside a casket lifeless, her family accepted that she was already gone. Loneliness was seen in the eyes of her two children, a loneliness that was so deep for children longing for a mother's love, and where excitement to be reunited with her again turned into grieving.
May eternal light shine upon Mercedita.  May she rest in peace.