Finally, after spending more than 4 years of imprisonment, an OFW in Saudi Arabia convicted of being a drug mule can almost enjoy the 'taste' of  freedom outside the jail.
In an interview with GMA News, the parents of Junivie San Juan have happily shared that their daughter was able to finish her sentence.  However, they still need to settle the penalty amounting to P1.3 million for the case to be fully dismissed.
Apparently, Junivie's parents, Jun and Elvira through the help of the Department of the Foreign Affairs (DFA), Department of Labor and Employment (DOLE) and the Overseas Workers Welfare Administration (OWWA) were in Jeddah to visit their daughter.  They were granted with "compassionate visa" and their airfare tickets and hotel accommodations were provided for free as well.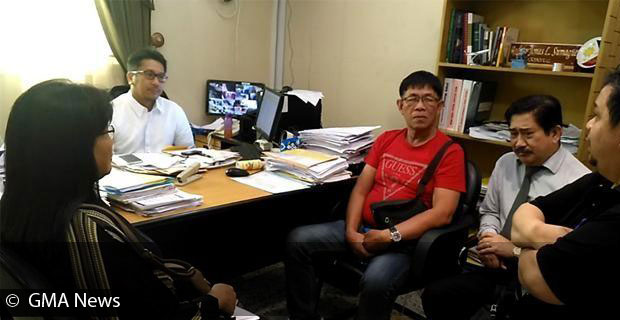 Jun said seeing his daughter had melted his heart and he felt a mixture of pain and joy to see her in such situation. He shared that his daughter hugged him tight upon seeing him and cried to him like a child.  He then hugged her tighter to let her feel the warmth of his love.
"Natutuwa dahil nakita ko sya, nalulungkot dahil sa sinapit nitong pagkakakulong ganon pa man tinitibayan ko ang aking loob at hindi ko ipinakita sa anak ko na ako ay nanghihina Kailangan ipakita ko sa kanya na matibay pa rin kami positibo na ipagpatuloy ang buhay para naman hindi siya maging malungkot."
Junivie is a first-time OFW who had been sentenced with 3 years and 6 months imprisonment for being a drug mule.  She had been arrested on October 9, 2013, few days after she arrived in the Philippines from Saudi Arabia to work as a dental assistant.
At that time, Junivie was unaware that the bag which a representative from her agency had asked her to bring to Saudi Arabia allegedly contained illegal drugs.  She was then arrested by the authorities.
At first, she had strongly denied the accusations and claimed that she was also a victim of a drug syndicate operating in the Philippines and Saudi Arabia.  She added that she was unable to check what was inside the bag and was totally unaware of its contents.
In an interview with Consul RJ Sumague, the acting head of the Philippine Consulate said that the case of Junivie was almost finished and the last thing they need to do is to settle the "garama" or penalty for her to be finally free.
Meanwhile, Sumague appealed to OFWs to be cautious in carrying baggages from people who asks favor from them.  She also appealed to recruitments agencies to be responsible in their commitment to look after the welfare of the OFWs.