It was indeed a great surprise! Thanks to Philippine Airlines, Globe, Duty-Free and the Manila International Airport Authority, newly arrived OFWs felt the real spirit of Christmas – the gift giving. They received gifts while waiting for their luggage to arrive at the carousel.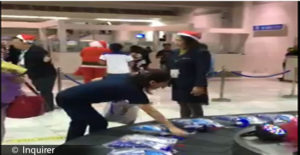 The heartwarming moment was captured in a video which now has 3 million views.
Christmas is a lot different in the Philippines especially due to the presence of your loved ones. That is why OFWs always try to go back to the Philippines during this time of the year.
Luckily, there are people who are kind enough to express the true meaning of Christmas. OFWs working hard abroad bound to see their families were welcomed with this kind gesture.
Truly, Christmas in the Philippines is the best in the world.