On Tuesday, many passengers rushed to PEYA Travel after hearing that the agency had been currently suffering from financial difficulty. PEYA Travel is famous to domestic helpers as they had been offering low-cost travel packages and 'cheaper' ticket rates compared with other ticketing offices.  However, the domestic helpers were enraged after discovering that the tickets which they purchased was invalid.  Thus, they were not allowed to take their scheduled flights because there were no seats booked under their name. The angry crowd crammed into PEYA's ticketing office located at World-Wide Plaza in Central.
Among the passengers about 200 Filipinos who were on their way home to the Philippines in time for the Christmas season were stranded and missed their most-awaited flight going to the Philippines to be with their family and loved-ones.
According to PEYA's owner, Rhea Donna Boyce, she was just able to discover the problem on Saturday.  She was able to rebook flights of around 100 passengers but then, a lot of passengers were still left uncertain whether they would be able to have their rickets rebooked or have a refund of it instead.
Video posted Online :
PEYA had given very minimal explanation to the passengers. In fact, because of the pressure brought by the complaining domestic helpers, PEYA's staff had walked out from their posts.
Among the affected passengers, a certain Belen was teary eyed and bursting with anger since she had scheduled her flight for her father-in-law's burial in Bicol and needs to be there on time. She said the money which she used to buy her ticket amounting to $5000 was her last money and she doesn't have enough money to purchase a new one.
Worse, some relatives were about to fetch her at the airport based on the flight details which she gave them according to the ticket she purchased from PEYA
Video posted online
Grabe dumami na naman sila..my reporter na dito…

Posted by Agcaoili Curtez Garan on Monday, December 18, 2017
Another passenger named Perla Santos was shocked to learn that her name was not included in the list of the PAL passengers bound to Manila.  She then just booked a new flight with Cebu Pacific so she could arrive on the same day.  But then, since she had booked a different time, the relatives who were about to fetch her from the airport had travelled back to Pampanga after learning that she won't make it as scheduled.
Meanwhile, a certain Gorospe had extended his help to the complainants for their refund. He claimed he was unsure why the flight schedules were deleted from the travel agency's system and suspected that it might be due to a system virus.  However, he did not promise and assured  them as to when the refund will be released or if it is possible as only the management can answer to their complaints.
As of this writing, it was learned that the Philippine Consulate in the city is expecting PEYA to take responsibility for the unfortunate incident and take all the necessary actions to settle the matter.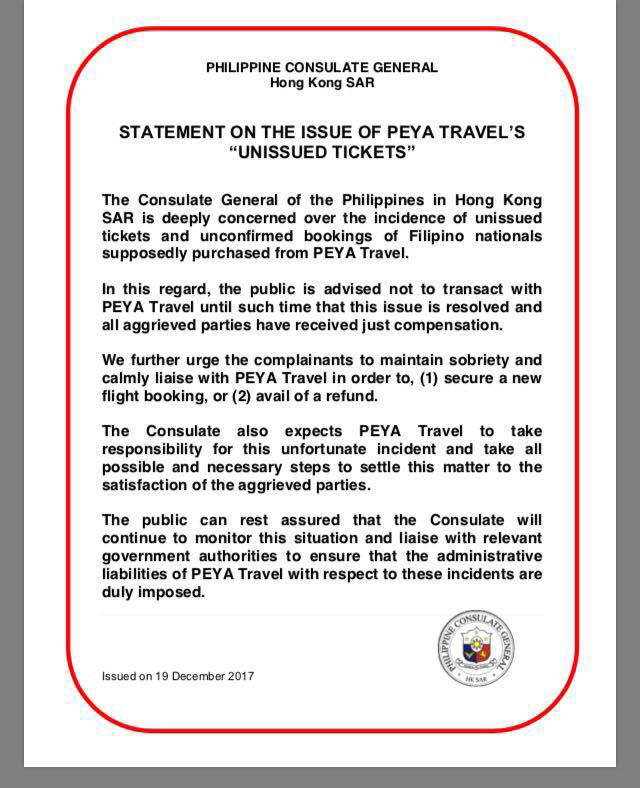 The Hong Kong police were also looking at the said incident after receiving numerous complaints against PEYA Travel.